The dam wall broke after the Queensland Firebirds became the first team to announce their training partners for 2022 on Wednesday, November 3.
Five more sides have since announced some or all of their training partners, rounding out their extended squad for the upcoming season starting March 26, 2022.
The Inner Sanctum takes you through all the signings of the past two weeks.
Collingwood Magpies
Collingwood has had one new face and one returning join the club as training partners for 2022.
South Australian sisters Nyah and Sienna Allen may finally receive the chance to play together at Super Netball level, with both already having spent multiple years in the system.
Both have represented their state at junior level, and have previously expressed the desire to become the first sisters to represent Australia together since Natalie and Laura von Bertouch, 14 years ago.
Nyah – the younger of the two – has already spent two seasons with Collingwood as a training partner. The shooter excited fans in brief appearances in 2021, finding minutes on court twice.
Sienna meanwhile has spent the past three seasons up on the Sunshine Coast, learning under national-level defenders.
She occupies the opposite circle, and will now have the opportunity to learn under one of the most experienced defenders going around in Geva Mentor.
The older Allen has been a part of three Australian development squads, growing her skills. An excellent reader of the play, the only way to go now is up.
Giants Netball
The Giants have locked in a whopping eight players for their extended squad after a busy signing period which already added some prime young talent.
Joining twin sister Amy – who earned a contracted spot in the Signing Period – Nat Sligar was one of five new faces signed in the Giants' training partner brigade.
The two couldn't be more different. Amy is most comfortable in the midcourt, predominantly in centre, while Nat is a versatile shooter/midcourter who can don the goal attack or wing attack bib when needed.
Sligar represents Sutherland Stingrays in the NNSW Premier League, and was selected in the Australian under 19s Squad in 2020.
The four other new faces are Eliza Burton, Charli Fidler, Erin O'Brien and Millie Roach.
An attacking midcourter, Burton has come through the Giants Academy system to join the club. She has been coached by former Giants Bec Bulley and Kim Green at NSW Premier League side North Shore United.
At just 18-years-old, Fidler joins a Super Netball side for the first time with this training partner contract. An aggressive defender, she'll happily attack the post and notch up rebounds.
She most recently was named in the Australian under 19s side, and represents the Manly Warringah Sapphires in the NSW Premier League.
Another defender and another local talent, O'Brien was also recently selected in the Australian under 19s squad. She's also been involved in the Giants Academy, so already has a familiarity with the systems and running of the club.
Roach has also been a part of the Giants Academy. A tall and mobile shooter, she's a proven cool hand from basically anywhere in the circle.
Ang Frketic, Jemma Donoghue, and Clare Iongi all return as training partners from 2021.
Frketic was elevated to a training partner contract mid-year last season after the squad had to be reshuffled due to Kiera Austin's ACL injury.
The shooter has spent time on court with the Giants in pre-season matches. She was recently awarded the Marj Groves AM Scholarship at the Netball NSW Awards, joining a notable list of alumni having won the award previously including Taylah Davies, Kiera Austin, and Tayla Fraser.
Donoghue was selected in the Australia under 21s squad last year, as was Iongi. The two defenders bring incredibly different attributes, the former being known for her one-on-one work while the latter is renowned for her athleticism.
More Netball News
Lightning hard at work as shortened pre-season commences
'I was insanely jealous': How Abernethy's Scotland move changed her netball career
Firebirds light up first training partner signings
Sunshine Coast Lightning
2021 was a year of heartbreak for defensive midcourter Ashlee Unie. After finally earning her first contracted spot in the 10, she went down with an ACL injury in a pre-season match against the Giants.
The Lightning maintained that they would continue to support Unie through her rehabilitation, and have now named her as a training partner for 2022.
Maddie Hinchliffe was added to the senior list in wake of Unie's injury, but returns as a training partner after failing to earn a main squad contract in favour of sister Tara, Kadie-Ann Dehaney, Annie Miller and Reilley Batcheldor.
She made her debut playing in wing defence in the Round 14 clash with eventual premiers the NSW Swifts, given the unfavourable task of matching up on Nat Haythornthwaite.
Annie Lawrie was the last returning training partner. The shooter joined the club in 2020, making her debut in the same season.
Coach Kylee Byrne spoke on the recruitment of the three newcomers in Bridey Condren, Jada Gafa and Ava Black.
"Ava has such raw untapped talent and athleticism that will thrive and develop really quickly in this environment," Byrne said of the versatile midcouter.
"She is so keen to learn and absorb herself in everything, she has fitted in perfectly."
Bryne admitted she's been closely following Gafa's career, with her eye set on adding the aggressive midcourter to the squad to fast-track her future development.
"I have been watching Jada since she was 16 and have always admired her natural game and instinct," Byrne said.
"As an attacking centre court she has that amazing ability to find space easily and also finish with the pin point feed. This is going to be a huge learning for Jada but one I know she will handle brilliantly."
Condren can play both defensive positions in the circle, which she has already proven at Super Netball level. She debuted for the West Coast Fever in 2020 as an injury replacement player.
"When you look at defenders there needs to be an element of mongrel that is unteachable and Bridey has that in spades," Byrne said.
"She is another athlete who has done her time in the pathway but is now ready to test herself and work in a high performance environment so that we can all see what she is capable of."
NSW Swifts
The reigning premiers looked to the next generation of talent for their training partner squad, signing six members of the Swifts Academy for 2022.
It was a proud moment for the club, the first time every contracted training partner had graduated from the Academy since its inception in 2019.
"It is really special to see how these players have progressed from NSW State Teams into the Academy and now they will be a vital part of our aim to win back-to-back titles for the first time in almost 15 years," coach Briony Akle said.
"It was a rigorous selection process and there were some tight calls but it is good to have to those tough decisions to make as it means the program is working."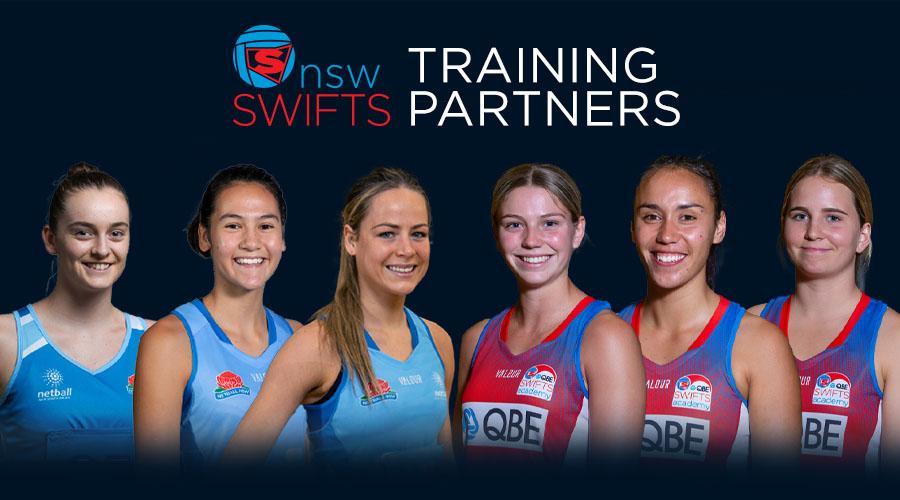 The Swifts are spoiled for choice with midcourters, with all three signed capable of playing multiple positions across the midcourt.
19-year-old Chelsea Mann has played across wing defence and centre at Manly Warringah and GWS Fury, capable of both sticking close to an opponent and creating play.
Lili Gorman-Brown can play across all three positions, while Audrey Little is more of an offensive type. All three have been selected in the NSW under 19s team.
With Diamonds stuffing the midcourt, the coach foresees their development accelerating rapidly.
"I can't wait to see the likes of Chelsea, Lili and Audrey learn from Paige Hadley and Maddy Proud," Akle said.
"Sophie [Fawns] and Laura [Towell] won't get a better netball education than training alongside Sam Wallace and Helen Housby daily. And who better to teach Dakota [Thomas] than the Diamonds pairing of Sarah Klau and Maddy Turner."
Fawns is a 185cm shooter, also selected in the NSW under 19s side. Towell is the oldest of the bunch at 23, having been through the pathway system longer than any of her new teammates.
Thomas meanwhile is the sole circle defender, also capable of taking up a spot in wing defence.
Melbourne Vixens
The feel-good story of the Melbourne Vixens' training partner signings comes in the form of Ruby Barkmeyer, returning for a third season at the club.
The young shooter has been signed as a temporary replacement player in the place of the injured new recruit Kiera Austin as she continues to recover from her ACL injury.
Barkmeyer debuted in Round 1 of the 2021 season, and spent the majority of the year rotating through goal attack with Kaylia Stanton and learning under Mwai Kumwenda.
While she only played just 238 minutes out of a possible 840, it was a year that came as a huge learning opportunity.
"I was learning so much from just watching everything that's happening out there on court," Barkmeyer told The Inner Sanctum at the season's conclusion.
"Being in the Vixens environment, in any place whether it's part of the squad or whatever it is, I think there's still lots of room for growth."
Jordan Cransberg is the other returning face, joining the Vixens again after a strong, albeit interrupted, year with the Melbourne University Lightning in the VNL.
An aggressive midcourter, she'll keep taking notes from Diamonds duo Kate Moloney and Liz Watson, as well as youngster Hannah Mundy.
Sharni Lambden crosses over after being a training partner with the Magpies in 2021. She was also a part of the Vixens Academy, so has already been a part of two high level systems.
She's a versatile mainstay of the Casey Demons in the VNL, and has become renowned for her ability to play both circle defence and a defensive role in the midcourt.
Emily Andrew is perhaps the rawest of the group joining the Vixens this season, but has talent in spades. The young shooter was named in the Australian under 19s squad this year, and can play a strong role as a holding goaler in the circle.
Subscribe to our newsletter!