Tokyo 2020: Paralympics Recap – Tuesday August 31
'Disqualified' athletes winning medals, competing in protest and a guaranteed chance at keeping the Golden Slam dream alive headlined the day's Paralympics action.
'Disqualified' athletes winning medals, competing in protest and a guaranteed chance at keeping the Golden Slam dream alive headlined the day's Paralympics action.
Catch up on the biggest moments from Day 7 before tomorrow's start of play.
Medal Tally
| | | | | | |
| --- | --- | --- | --- | --- | --- |
| Rank | Nation | Gold | Silver | Bronze | Total |
| 1 | China | 62 | 38 | 32 | 132 |
| 2 | Great Britain | 29 | 23 | 28 | 80 |
| 3 | RPC | 25 | 16 | 33 | 74 |
| 4 | USA | 24 | 24 | 15 | 63 |
| 5 | Ukraine | 15 | 33 | 19 | 67 |
| 8 | Australia | 13 | 21 | 20 | 54 |
Hicks too quick
C-2 cyclist Darren Hicks claimed gold in this morning's time trial to claim his second medal of the Tokyo Paralympics, and his first-ever Paralympic gold.
He had already earned silver in the 3km individual pursuit, and today got to show off his prowess as both a top-level road and track cyclist.
Hicks finished the race more than a minute ahead of silver medallist Ewoud Vromant [BEL] and over two minutes ahead of bronze medallist Alexandre Leaute [FRA] with a 34:39.78.
It was a welcome surprise for the 36-year-old after a slight downturn in performances on the road across 2020 where he finished seventh in the Omnium and ninth in the Scratch Race in Canada.
A slew of fellow Aussies managed to medal across the day's cycling events.
Following up her gold in the women's C-4 pursuit, Emily Petricola won silver in the C-4 time trial, finishing just nine seconds behind the USA's Shawn Morelli. Australian Meg Lemon rounded out the podium in bronze, the 31-year-old's first Paralympic medal.
Paige Greco claimed her second medal of the Games with a bronze in the women's C1-3 time trial, while Alistair Donohoe added to his trophy cabinet with a bronze in the C-5 time trial.
One of the oldest Paralympians at the games, 60-year-old Carol Cooke couldn't add to her three golds across London and Rio but did win silver in the T1-2 time trial.
No Stone left un-Turner-ed
James Turner became a two-time gold medal-winning para-athlete this morning, claiming the top of the podium in the T-36 men's 400m final.
Turner had previously won gold at Rio 2016 in the T-36 800m, earning his title as one of the world's dominant short and middle-distance runners.
His Paralympic record 52.80 run was still over a whole second slower than the world record that he set in Dubai in 2019. It's a testament to Turner's current dominance on the track.
Turner will also be running in the T-36 100m heats on Friday, looking for a spot in the final on Saturday.
Earlier in the morning, Jaryd Clifford won bronze in the T-13 1500m final, barely .60 seconds behind gold medallist Anton Kuliatin [RPC] in the Russian's first Paralympics.
Disqualification drama
Incredibly unique circumstances in the T-11 women's 100m saw just two medals awarded, with no bronze handed out.
World champion and world record holder Jerusa Geber das Santos was disqualified in the first 10 metres, as her tether to her running guide broke and this disqualified her from the podium under WPA rule 6.15.3.
Fellow Brazilian Thalita Vitoria Simplico da Silva was disqualified under WPA rule 7.9.3, which states that the athlete and their guide must remain attached by the hand tether from the start of the race under the end.
China's Liu Cuiqing was similarly supposed to be disqualified under WPA rule 6.15.4, which states the regulations under which the tethers must be adhered to, but was still given silver come the medal ceremony as she was only handed a yellow card.
Liu had also previously won gold in the T-11 400m.
Gliders catch the wind to ninth
Australia's women's basketball team, the Gliders may not have reached the quarter-finals, but they still had a match to play for 9th/10th classification against Algeria.
The Aussies soared high straight from the opening term, sitting up 27-8 at the first break. Georgia Munro-Cook ended the shooting of the term strongly, making two pointers outside the paint and off a fast break.
It didn't look much better for Algeria come the half time, a dismal 42-17 scoreline was the last thing fans wanted to see as their girls kept struggling to find the rim.
Algeria finished the match with a dismal field goal shooting conversion of 25 per cent, with the Aussies finding the net off 54 per cent of their shots. What made this even more insulting for Algeria was that they smashed the offensive boards 13-6, but simply could not convert off those opportunities.
Amber Merritt was the match's top scorer, putting up a huge 27 to go with eight rebounds and five assists, while Munro-Cook finished on 14.
Despite the surging final score of 71-32, the Gliders will advance no further. At the very least, the women's wheelchair basketball team finished on a high.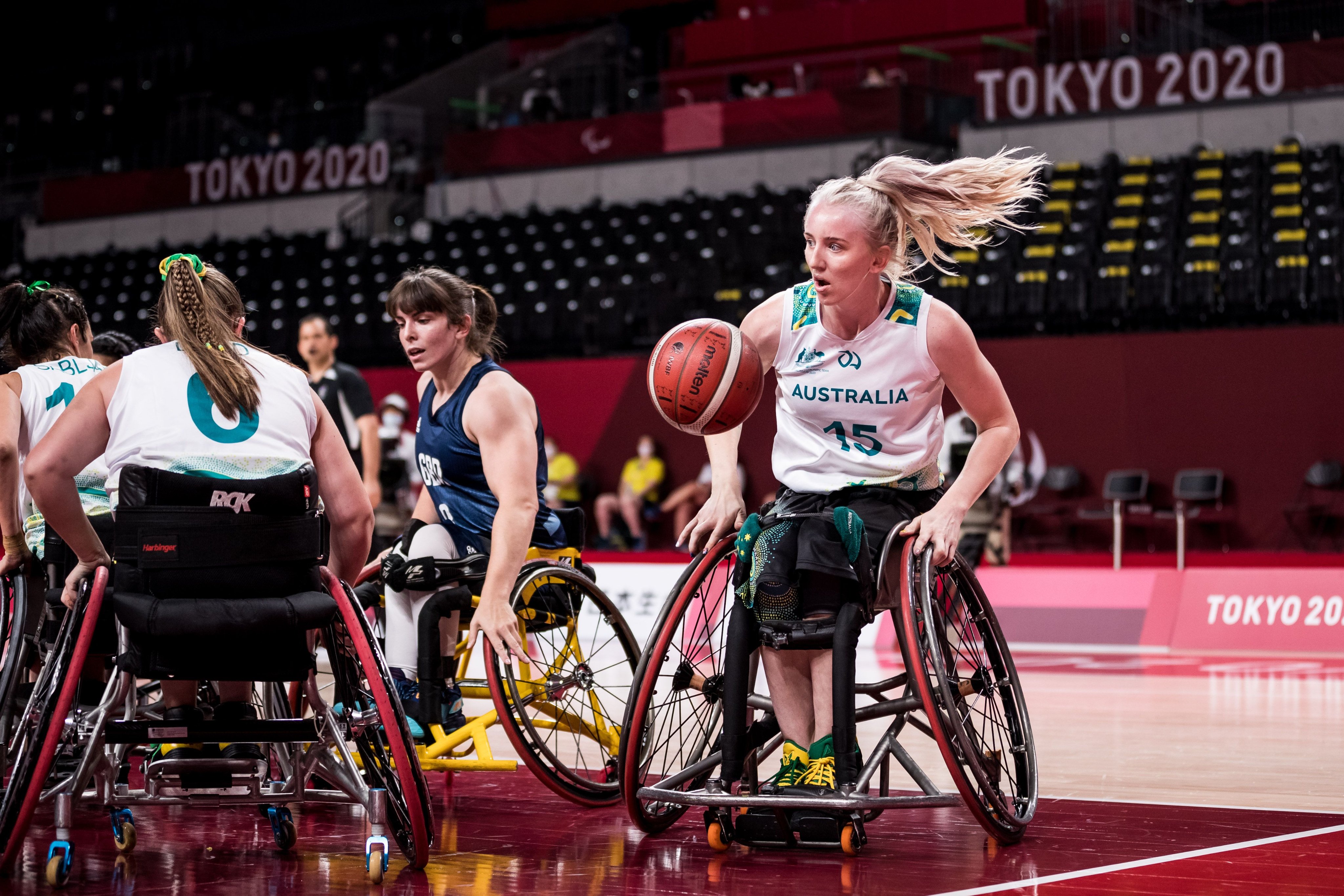 More Paralympics News
James Turner wins gold with Paralympic Record on the athletics track in Tokyo
Darren Hicks achieves Paralympic dream with Gold in Time Trial
Tokyo 2020: Paralympics Recap – Monday 30 August
Alcott guarantees Tokyo medal
Conquering the greatest challenge of his Tokyo campaign, Aussie tennis superstar Dylan Alcott advanced to the wheelchair quad singles gold medal match.
After a strong 6-4 win in the first set, Dutch opponent Niels Vink took the second set 6-3 as the pressure started to mount.
Alcott uncharacteristically made five double faults on the path to dropping the second and didn't hit a single forehand winner. The only knock on Vink's game was his inability to convert his break points, only managing to do claim three of his seven in the second.
The third set saw Alcott get his head back in the game, cleaning up both his service game and cutting down on the unforced errors that saw him drop so many points in the second.
Sportsmanship was well on show, the two embracing post-match and celebrating the achievement of both men on their way to a medal chance.
Alcott's opponent will be none other than Sam Schroder, who Alcott has met many a time playing off for tournaments. Alcott downed Schroder most recently at Wimbledon, where Alcott made quick work of his long time opponent 6-2, 6-2.
Schroder similarly dispatched Japan's Koji Sugeno 6-2, 6-3 to advance to the gold medal match.
Javelin world record falls
Iran's Hashemiyeh Motaghian Moavi left her best effort for last in the women's seated javelin, breaking the world record and claiming gold.
The H-56 athlete, competing in her second Paralympics, was on the precipice of the podium after her first two throws. While she wasn't in danger of losing the right to two extra throws, the medal was falling out of reach.
With a mighty throw and a determined cry, the javelin flew 24.50m to smash the previous F-56 world and Paralympics record of 24.03m and 23.99m respectively, held by Germany's Martina Willing for 13 years.
In her next throws, Motaghian Moavi went on to throw over 24 metres twice more, both throws that would have also broken the record.
It was her first Paralympics medal after a strong lead up with saw her place second at the World Championships in Dubai in 2019 and London in 2017.
Silver medallist Raissa Rocha Machado [BRA] also won her first Paralympic medal after finishing sixth at Rio. Veteran Paralympian Diana Dadzite [LVA] won her second medal of Tokyo 2020 with her bronze, after winning silver in the seated discus.
Ripples to splashes to waves
Three more Australian medals were claimed in the pool tonight, with two silvers and a bronze being added to the medal tally.
Grant Patterson won silver in the SB-1 50m breaststroke with a 1:01.79. It was a strong comeback after he missed selection for Rio 2016, earning his first two Paralympic medals in the breaststroke and in the SM-3 150m medley.
Gold went to Arnulfo Castorena [MEX] after he smashed his heat, finishing in first by three seconds.
Patterson managed to improve on his heat time by .25 seconds. It was all in all a strong swim, but Castorena looked the likely winner as soon as he took to the pool in his heat.
Meanwhile, in the S-10 men's 100m butterfly, Col Pearse won bronze at his first Paralympics. Maksym Krypak [UKR] set a new world record with his 54.15, beating fellow countryman's Denys Dubrov five year standing record.
In the women's events, Jasmine Greenwood won silver in the S-10 100m butterfly, barely losing out on gold by .37 seconds.
It was possibly the most impressive performance by an Australian at the Paralympics so far, the 16-year-old taking it right up to fellow teenager Mikaela Jenkins [USA] in what was a show of the Paralympic future in the pool.
Suffice to say that this won't be the last we hear of the name Jasmine Greenwood.
Peaceful protests send a message
One of the strangest moments of the Games yet came in one of the first athletics events of the night, the men's F-20 standing shot put final.
Multiple athletes showed up inconsequentially late for the start of the event and were deemed to be disqualified or unable to participate by the Olympic officials.
What followed was a series of protests and counter-protests from the disqualified Jordi Patricio Congo Villalba [ECU], Muhammad Ziyad Zolkefi [MAS] and Aussie Todd Hodgetts, followed by the Ukrainian pair who would eventually go on to take out gold and silver.
Maksym Koval took out the gold on his third throw with a new world record of 17.34m, while countryman Oleksandr Yarovyi also broke the world record with a 17.30m in his second throw.
The record was held previously by Ziyad Zolkefi, set in 2017 in London.
Hodgetts spoke to media after the conclusion of the event, continuing to throw despite already being disqualified in protest of the decision.
Subscribe to our newsletter!
About Author