There have not been many debuts in the Suncorp Super Netball quite like Rahni Samason's.
She signed a training partner contract earlier in 2021, not expecting to play many games, if any at all, with the reigning premiers of the competition.
A goal shooter by trade, Samason earned her chance in round five after Emily Mannix was forced to miss games with a knuckle injury.
She slotted into goal attack perfectly, shooting 35 of the Vixens 66 goals (including eight super shots!) to deliver the side's first win of the season.
Speaking to Yarra Valley FM, Samason has been slowly adjusting to the increased attention that comes with being a Super Netball player.
"It was a bit of a whirlwind," she laughed.
"It kind of went from 0 to 100 real quick after that first game, so it's still a bit surreal.
"It's actually felt quite the same. I have been part of the Vixens program for a few years before I suffered an ACL injury. I've always been up there, so it's not really anything I've been doing differently, now there are just a few more eyes on me."
Learning her new position has been a challenge, but one that she's had plenty of support for.
Having one of Australia's greatest goal attacks of all time in her ear 24 hours a day hasn't gone unnoticed, and Samason believes she's benefitted greatly from the coaching staff.
"Still learning a little bit of goal attack, I am a bit of a traditional goal shooter," Samason said.
"Having to run to get the ball has been a bit of a new experience, but it's good! I'm trying to embrace it as much as I can.
"Sharelle McMahon, she's been one of the biggest influences on me. As a goal attack, everyone wants to be like her, so having her as a coach is amazing."
MORE NETBALL NEWS
Diamond Spirit: Instilling Confidence in Indigenous girls
Round 9 ANZ Premiership wrap: Top three extend their margin over the rest
Vixens and Magpies to relocate to the Sunshine Coast
Samason has been fortunate enough to have been around the Vixens for a few years already, and has become familiar with her teammates, both on and off the court, before even playing a game alongside them.
This was especially beneficial when she was recovering from an ACL injury.
"I'm actually incredibly grateful, I had a few girls do rehab with me," Samason said.
"MJ (Mwai Kumwenda) did her ACL as well, so we went through rehab together and Tayla (Honey) was there. I think if I did it by myself I probably wouldn't be in such good stead right now.
"I think Kate Moloney has been such a huge influence in keeping me grounded and present in the moment. It is hard to kind of get caught up in all this new social media attention, so she's been absolutely amazing."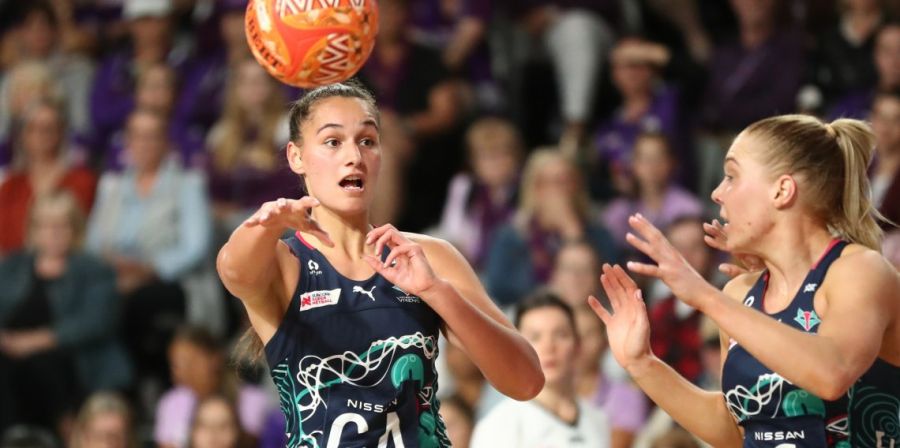 Life as an injury replacement player, however, is "bittersweet," as Samason describes it.
Once Mannix is back to full fitness and playing in the squad, Samason's spot will be claimed and she'll make a return to the Victorian Netball League.
Mannix was supposed to play last weekend in the loss to the Magpies, but was a late out, giving Samason reprieve for one more game.
"It is a bit bittersweet, because you never want to see another one of your teammates injured," Samason said.
"Going through a major injury myself, I know it's just the worst thing, so I was really, really sad for [Emily]. When you do get to the game you do have to put that aside, because that's where most people get their opportunity.
"Whether it's people are getting injured or especially in female sport, people are getting pregnant, you just have to kind of come off the back of that and do your best for that player.
"I tried to go out there and play for Emily because she couldn't."
With talks of a full contract beginning to circulate for the 2022 season, Samason believes she's done all she can to show clubs what she can do.
Even if she has to return to the VNL, she says she's now in the best position possible.
"I think the VNL is a great competition, it's our pathway up to the Melbourne Vixens," Samason said.
"Going back there, I'm not sad, but it is week-to-week with being a temporary replacement player. I think it'll be a bit bittersweet, because I would obviously love to keep my place in the 10.
"I can just hope that I've showed all of the other coaches my potential and what I can put out there on the court. I'm hopeful for maybe a contract next season."
Subscribe to our newsletter!