SSN Signing Period: NSW Swifts reload to defend the title
The NSW Swifts have reloaded during the Super Netball Signing Period and are ready to try and defend their 2021 premiership.
For all the Suncorp Super Netball signing news, stay up to date with our Off-Season Hub and follow The Inner Sanctum's netball podcast, Over a Third, on Twitter and Instagram to get the news when it breaks.
The NSW Swifts were the premiers of Super Netball in 2021, after a tough year on the road. The Swifts were forced out of NSW as COVID-19 cases spiked in NSW in June, but kept their momentum to finish strongly.
After winning their second premiership in three seasons, the Swifts are looking to reload their squad to attempt to go back-to-back.
With the seven players who started the Grand Final all returning, the Swifts have kept their nucleus together and will look to develop young talent at the same time as they maintain their high level.
With additions across the court, The Inner Sanctum reviews the Swifts' signing period.
| | | |
| --- | --- | --- |
| Re-signed | Added | Departed |
| Sam Wallace | Allie Smith (Vixens) | Natalie Haythornthwaite (Thunder – UK) |
| Helen Housby | Teigan O'Shannassy (elevated) | Sophie Garbin (Magpies) |
| Paige Hadley | Kelly Singleton (elevated) | Lauren Moore (Giants) |
| Maddy Proud | | |
| Tayla Fraser | | |
| Maddy Turner | | |
| Sarah Klau | | |
Biggest Signing: Allie Smith
Smith made her name in 2020, playing as a cog in the humming midcourt of the Melbourne Vixens, who would go on to be crowned premiers.
After a frustrating year in 2021, where Smith was given less opportunity, she has made the move up the highway to the Swifts. It is expected that Smith will be a key part in the midcourt rotation for the Swifts going forward.
Coach Briony Akle has shown a willingness to throw different combinations at opposition teams, and has praised the versatility of her midcourt group, so much so that she started multiple different starting combinations in 2021, even when all midcourters were fit.
Smith, as a natural wing defence and centre, will allow Tayla Fraser to be unlocked, with the former VIxen pushing into wing defence, and Fraser able to go further up the court to use her blistering speed.
Expect Akle to test Smith out in different positions and different combinations throughout the 2022 season, and perhaps she will even keep a combination up her sleeve for finals, as she did with the Fraser-Proud-Haythornthwaite trio that dominated the Grand Final.
Singleton and O'Shannassy, as former training partners, are already well versed in the ways of the Swifts. Each will be tasked as a replacement player and a change of pace in the circle at their end of the court, but will likely not see the court time and responsibility that Smith will see very quickly.
Biggest Departure: Lauren Moore
While the other two departures from the Swifts are both netballers who have international representation under their belt, Lauren Moore leaves perhaps the most significant hole of the trio.
Garbin, as the reserve shooter, was used in relief or as a change of pace or style in the shooting circle, but was generally confined to short bursts on court. Haythornthwaite, an English Rose, appeared to fall out of Akle's regular midcourt rotation, and saw less court time throughout the back half of the season, aside from a significant cameo in the Grand Final.
Moore however, started almost half of the Swifts' games last year, and played across three positions. Her time as a circle defender, as a replacement for Sarah Klau and Maddy Turner was key to allow Akle to mix the matchups, but Moore also played a significant amount of time in wing defence, sharing the role with Tayla Fraser.
As a circle defender, Moore brought an extra element to the position, with the ability to get arms over every midcourter in the league to slow attacking ball movement, and help the circle defenders out. Smith is a very different kind of wing defence player, and while certainly a capable replacement, offers a different dimension.
Projected Starting Seven
The Swifts will roll with the starting seven that took them out to an eight goal lead early in the Grand Final.
The shooting circle, with two international stars, has become one of the most lethal combinations in the league. After four seasons together, Sam Wallace and Helen Housby are still at the top of their games, and the movement and passing dynamic between the pair makes them close to unstoppable on their day.
Any midcourt that has two Diamonds, in Maddy Proud and Paige Hadley will continue their strong play, as they have for a number of seasons together now. Tayla Fraser is the young member of the midcourt, and brings a different spark.
Fraser's speed and agility allow her to burn teams on the counterattack. As a development wing attack and centre, Fraser, like all the Swifts' midcourters, can play multiple positions. This versatility proves crucial to challenge opposing teams, and handle any injuries or other changes.
The defensive duo for the Swifts is the key foundation. Sarah Klau and Maddy Turner became one of the most effective defensive duos in Super Netball in 2021. With another year under the guidance of assistant coach Bec Bulley, and time in Diamonds camp together, the duo will only be more difficult to score against next season.
Given that this starting seven has already shown the ability to pull away and beat the best teams in Super Netball, there aren't too many weaknesses to point out.
More Netball News
SSN Signing Period: Melbourne Vixens restock across the court
SSN Signing Period: Collingwood Magpies add front end firepower
Super Netball Signings – What do the additions bring to your team?
Shooting Group
The two international stars that the Swifts have in the circle underline all the efforts of the team. Sam Wallace has quietly become one of the deadliest shooters in the world, with a number of games in 2021 where she shot without a miss.
Her strength to hold her defender at bay, combined with a strong aerial contest has made her so hard to stop under the post. This has been recognised, as she was named the Swifts' MVP for a third time in 2021.
After scoring 585 goals in 2021, at 93 per cent accuracy, its hard to work out how much better Wallace can get, but the Trinidad and Tobago representative has grown each season in her time with the Swifts.
Her partner in the circle might be most well-known for her Commonwealth Games heroics, where she scored the gold-medal winning goal, but Helen Housby has made quite an impact in the Swifts' red dress in her 66 appearances so far.
Housby's game has developed as well in her time at the Swifts, as she has added defensive pressure and intercept ability to a clutch long-range shooting ability. Housby's versatility to play both goal shooter and goal attack is not forgotten either, as she played in the circle with Sophie Garbin at times in 2021.
Both will be responsible for continuing to mentor Kelly Singleton, who has been a Swifts' training partner previously. The 23-year-old Sydney native will make up the final member of the trio, and after watching from the sidelines previously, she will have her chance to star on game day.
Midcourt Group
With an established trio of two Diamonds and a rising star, the Swifts midcourt group is another strong one. the addition of Smith provides extra depth.
As mentioned earlier, the versatility of this quartet to play in different positions and combinations makes them very difficult to stop.
Hadley and Proud have played together for years, and their experience playing with Housby and Wallace over the past four seasons has only improved the connection and telepathy between the midcourters and the shooters.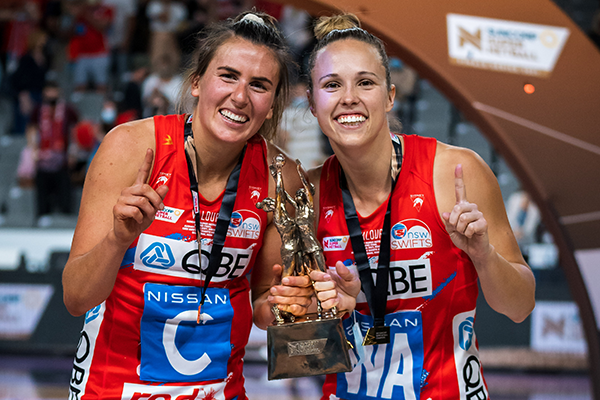 Smith and Fraser both also bring lockdown ability to their game, and the importance of stifling wing attack players is not lost on the Swifts. Slowing star wing attacks like Liz Watson and Laura Scherian is crucial, but the competition is also littered with emerging players at the position, like Maddie Hay, Jemma Mi Mi and Verity Charles.
For the Swifts to be able to slow opposing teams by locking in on those players has a massive effect. No more clearly was this on display than in the 2021 finals series.
In both matchups against the Giants, the Swifts went in with a clear plan to reduce Maddie Hay's effectiveness, and on both occasions, jumped out to early leads that were too much to pull back.
Briony Akle's ability to get all her midcourters in synergy and out on court will be critical to any hopes of defending the title they won in 2021.
Defensive Group
As mentioned before, any defensive duo that has two Diamonds will be hard to stop.
Klau and Turner have each become stars in their own rights, with Klau now established in the Diamonds setup, and Turner in camp with her this summer.
In 75 games for the club, Klau has become one of the best goal keepers in the competition, and playing alongside fellow South Australian Turner hasn't hurt. Turner is a chance to notch the 100 game milestone late next season, but reached new heights in 2021, as she was named both Player's Player and Grand Final MVP.
Teigan O'Shannassy joins as the young gun of the defensive end, after spending time in both the Giants and Swifts pathways. Having learned under Bec Bulley, and being able to practice with the likes of Klau and Turner will bring O'Shannassy on in leaps and bounds.
While she certainly has big shoes to fill, left by Lauren Moore, the Swifts will have little doubt in her ability to step up and be ready for whatever contribution is needed from her.
Subscribe to our newsletter!
About Author