South Adelaide's Rose of the leadership group finals focused
Captain Matt Rose will be leading out South Adelaide in a must-win semi final against Norwood on Saturday, after losing twice to the Redlegs this year.
It's a still and sunny day in the bayside suburbs of Adelaide.
South Adelaide Football Club captain Matt Rose sits overlooking the beaches of Glenelg, just days away from a do-or-die semi final match-up with Norwood.
He's not there for recreation, though. Rose has just returned from a seaside excursion with his rowdy group of grade four students.
The rest of the school day will be pretty relaxed now, he jokes. The kids have all tired themselves out from running amok on the sandy shores.
Teacher by day, semi professional footballer by night, the 29-year-old Rose has been keeping it business as usual in the lead-up to Saturday.
He missed the 2020 finals series after having surgery on his bicep midway through the season. Rose is no stranger to finals footy, however.
Speaking to The Inner Sanctum, the Panthers captain has already been there many times before. It's got a bit of a different touch leading the team out, though.
"I'm pretty lucky, we've got a leadership group of seven so the captain is really just a label," Rose said.
"We've got leaders all over the field. It's pretty simple, [we're] reiterating you don't need to do anything special, it's more just about everybody playing their role and contributing in some way. If you do that, you get results like what we did on the weekend.
"It's about keeping the boys focused and knowing exactly what we need to do."
More State League Footy News
'I'm really, really determined to prove you wrong': Cody Raak turning AFL Draft disappointment into opportunity
Avenging the past: Broadbeach's QAFL redemption story
Launceston Blues go back-to-back after final term blitz
Rose reflects back to 2016, a year which was both incredibly exciting and disappointing for him and the club.
The Panthers were in one of the strongest positions they'd been in for a long time, They finished just two per cent behind minor premiers Woodville-West Torrens, but went out down in straight sets to Sturt and Adelaide.
Rose had to grapple with the devastation of the losses, while still celebrating personal achievement. In his second season at South Adelaide after moving over from Port Adelaide, he was named the Player of the Finals.
"That was a disappointing year as a team," he said.
"It's another level up. You like to be rated and show that you can play when the game goes up a level in finals footy… you do what you can and walk off the field with your head held high.
"That intensity, and really when you get to my age, you play footy for moments like these. We've got a few more weeks to go yet."
From North to Norwood
The weekend's exciting win over North Adelaide almost seems like a relic of the past already to Rose.
Performances across the board were well and truly finals-level. Liam Fitt and Alex Callotto combined for seven goals, while Mitch O'Neill had 27 touches and eight clearances.
Rose praises the leadership of experienced teammate Bryce Gibbs, and the drive, tenacity, and effort of potential number one draft pick Jason Horne-Francis.
It is hard to believe, watching him play, that the kid is still waiting for his shot at AFL level.
He casually loped his way to a 15 disposal, eight tackle game in what would have been disappointing by his own incredibly high standards, Rose remarks.
The youngster showed up strongly in last year's finals series too, kicking two goals across his two appearances.
That reflection can't take up too much of their minds, however. Rose, the leadership group, and the coaching panel will be looking at how to stop a Redlegs team that has already bested them twice in season 2021.
"Both games, we lost by about nine points," he said.
"If we look back, we definitely didn't play our best in those games. It's probably credit to Norwood a bit as well… they like to play a bit of a contested one-on-one type game.
"They did that again against the Eagles on the weekend and narrowly lost. We'd expect it to be pretty one-on-one and tough, and we just have to be able to match that: that's finals footy."
Norwood's Mitch Grigg just about had Flinders University Stadium all to himself the last time the two sides met, back in mid-June.
The former Crow, league veteran, and dual Magarey Medal winner had a staggering 34 disposals, 12 marks, nine tackles, seven inside 50s, three clearances, and kicked three goals as the undisputed best on ground.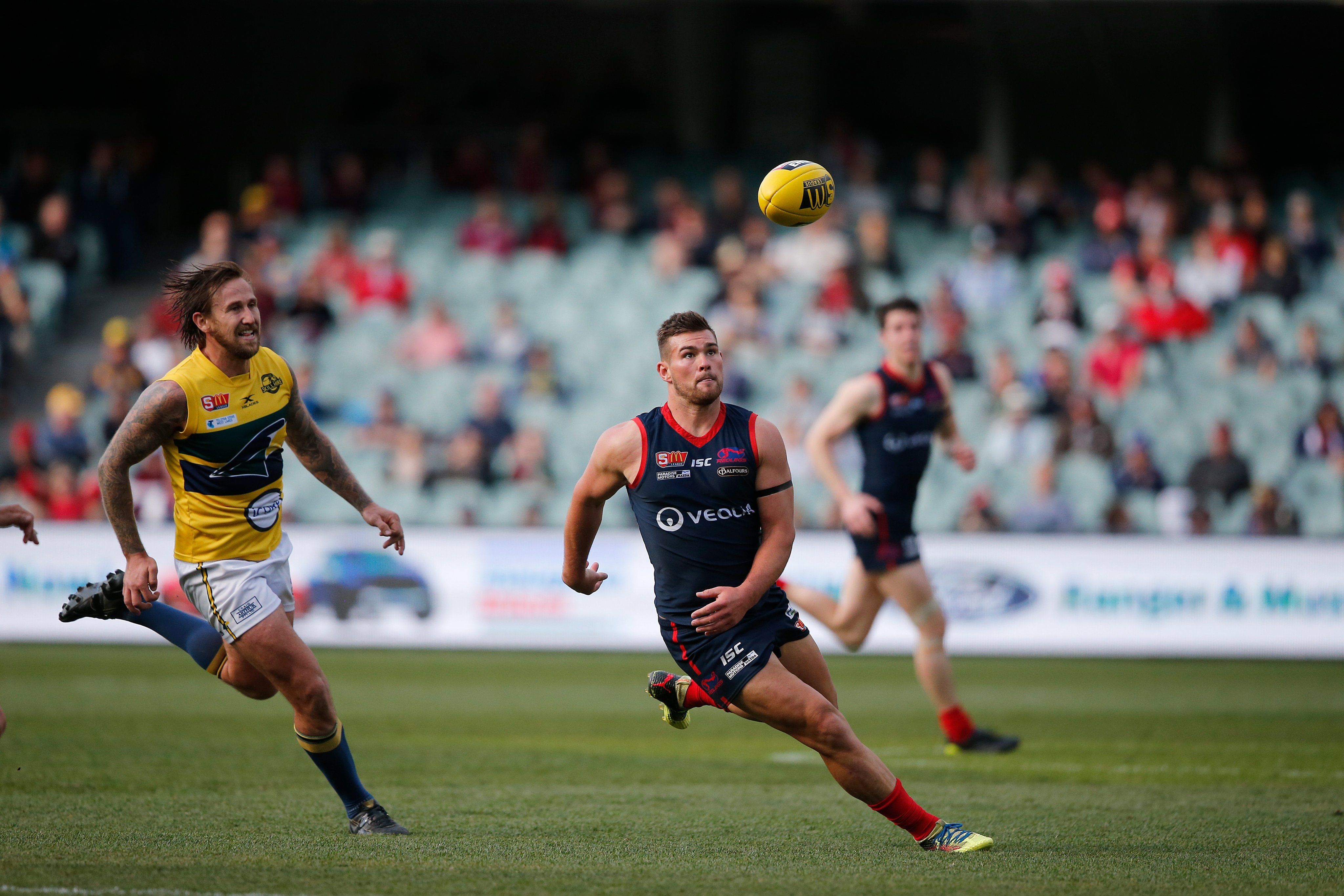 He'll be a player circled on the whiteboard about ten times over with the most garish red marker you've ever seen.
"He's obviously a fantastic player, and they've got a few of them going through the midfield," Rose said.
"They've got [Richard] Douglas in really good form, and their captain Matt Nunn who came back last week and he's a quality player.
"It won't just be about Grigg, but we definitely need to curb his influence. He's always going to get a bit of the ball, and I guess it's where he gets it with his booming left foot.
"There's things in plan for a lot of their players, and Griggy as well."
Coach Jarrad Wright spoke to South Australian media during the week, touching on what the Panthers would need to do game plan wise to take on the Legs and come out victorious this time around.
"We've had two really good battles against Norwood this year," Wright said.
"They probably could have gone either way at moments. If we all took our moments [again] we'd be a little bit better off.
"We understand what they're going to bring, Jade [Rawlings] has got them structured up really well. They're a workman-like team, they hunt and pressure the contest really well.
"We're going to have to be really strong on the inside like we were on the weekend, and hopefully we can get outside of them."
Drawing on Panthers history
Much like the Melbourne Demons in the AFL, the Panthers have one of the longest flag droughts in footy hanging over their heads.
It's been 57 years since South Adelaide won a SANFL flag, and 42 since the club has made a grand final at all. Finals heartbreak last year certainly hasn't helped either.
Rose can't help but see it as a positive, a challenge, a call to arms. The history of the club has to be acknowledged, but he stresses that this group could be the one to break the duck.
"It's in the back of your mind a little bit," he said.
"1964 is a long time ago. The current players, we're more about creating our own history now. Even last week, South had never beaten North in a final, so we've already ticked one off.
"Making the prelim last year, we've been around the mark. We're about creating our own destiny, and I'm sure there's a lot of South fans and ex-South players who are thinking about 1964 and hoping we can go the whole way."
Subscribe to our newsletter!
About Author