Ruby Sargent-Wilson's aspiration to 'embed' the Bloods culture in Sydney's AFLW team
Ruby Sargent-Wilson became the Sydney Swans' first ever AFLW signing this year. Speaking with the Inner Sanctum, Sargent-Wilson has opened up about her journey.
Earlier this year, Ruby Sargent-Wilson, a product of the Sydney Swans Academy, was announced as the first ever female to sign a senior contract with the club ahead of their inaugural AFLW campaign.
With the new season announced to begin in August, Sargent-Wilson spoke with The Inner Sanctum about her journey to becoming the first female Swan, and what is in store in the coming months.
A teenager from the Illawarra region, Sargent-Wilson is a naturally elite athlete having represented New South Wales in both touch football and netball during her schooling years.
Having been involved with high-end sporting institutions from a young age, the transition into Australian rules football, was seamless, and began getting noticed immediately.
"When I was 15, I thought I'd give AFL a go through the school system, that year I tried out for my region, which is South Coast," Sargent-Wilson explained.
"I was successful in getting selected in that team, and then was successful in getting selected into the 'All-Schools' team, which competed at a national tournament in Adelaide that year,
"We played all the other states in Australia, and I still hadn't played an official game of AFL (up until that point), so that was amazing, and I was awarded player of the tournament and selected in the All-Australian team that year as well."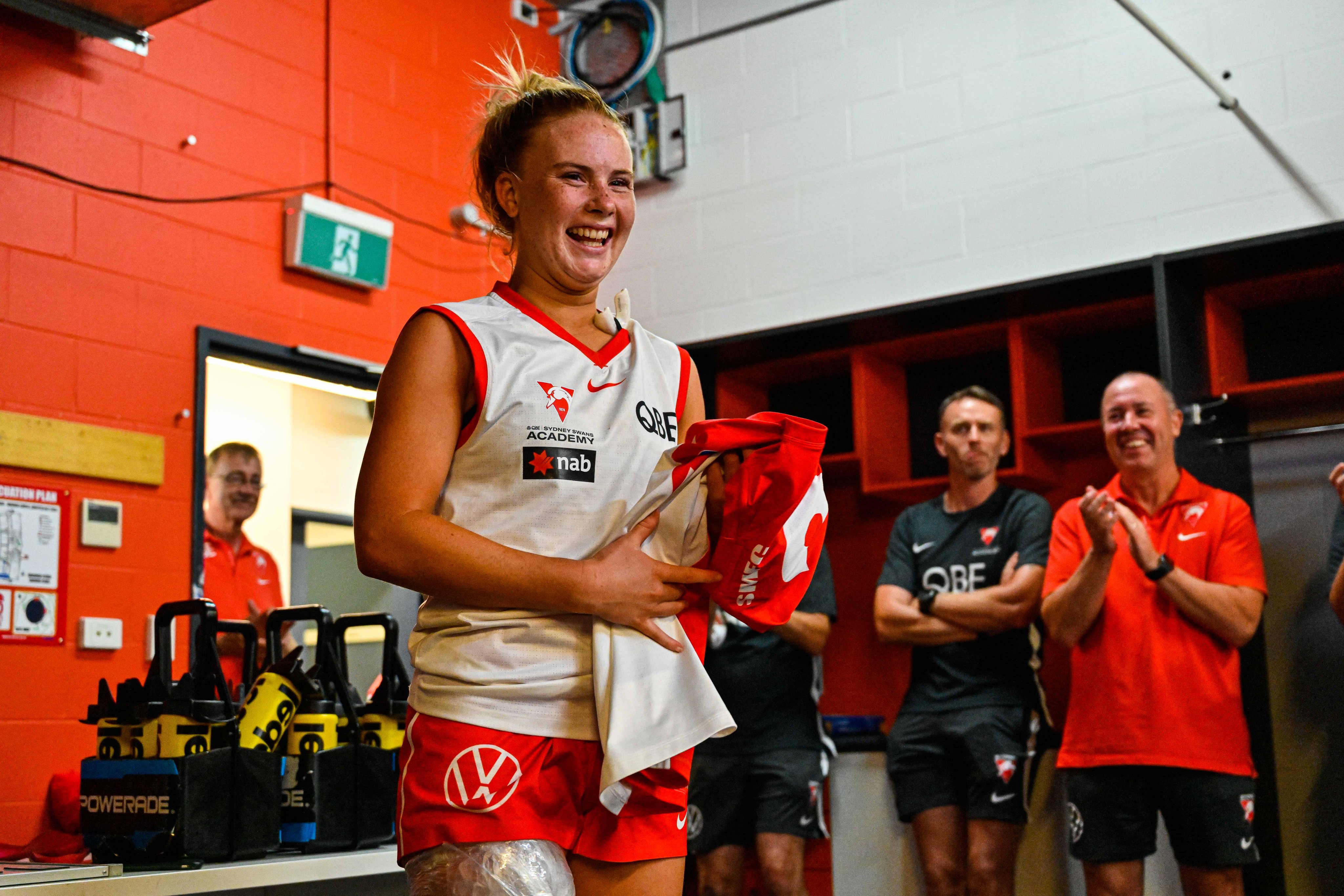 After that tournament, things began moving quickly for Sargent-Wilson. New South Wales' pathway manager advised her to sign up for a local club, and she did by joining the Southern Power.
Each week, Sargent-Wilson travelled up to Sutherland from Wollongong for games, as well as being in and out of the Illawarra Academy of Sport. Before long, the Sydney Swans Academy had seen enough and made her part of their program.
In the years following, Sargent-Wilson competed for NSW/ACT in the Under 16 Rams squad, and in the Under 18 Allies, in state competitions.
It's been an eventful three years for the Sargent-Wilson household, a family of rugby league fans, the idea of Ruby becoming an AFLW athlete, was not part of the original plan.
"Dad's been in and out of coaching for many years and mum's always been involved with netball and touch football. All my brothers are footy (rugby league) players and soccer players," said Sargent-Wilson.
"AFL wasn't a sport that was very big in the Illawarra, and for girls especially, it wasn't huge. It's only recently started up and really grown in the last probably five years.
"(I was) always focused on other sports other than AFL and didn't really know that it really existed until I started through school."
More AFL news:
The A-Z of Round 9: Who's Firing and Who's Flailing?
"Every game starts at the contest": Patrick Dangerfield and Geelong prepared to combat St Kilda's rucks
Despite their sporting code allegiances, Ruby's family did what they could to help achieve her AFLW ambitions.
"They were super supportive of me, which always helps. They have always created the passion and love that I've had for sport, and it doesn't matter what I'm doing, they'll always be there for me, and always on the sideline cheering.
"Mum and Dad dragged me to Sydney most weeks, and they'd be there along the way, trainings and games, and the registration fees and everything like that."
The Swans can thank Ruby's mum for keeping her away from rugby league, disapproving of the physical nature of the game. Without that maternal instinct, her daughter may not have become the first female signing for the Sydney Swans, a fact that Ruby is still coming to terms with.
"It hasn't really sunk in completely. It's been probably a month now and I still can't really believe it. It just, it's such an honour," she said
"I'm so humbled and privileged by their announcement of me being the first signed and especially coming through the academy, it means so much to me.
"I know that the Swans hold such a great culture there and I just want to continue that culture and embed it into our women's team and keep promoting that."
Swans AFLW coach, Scott Gowans, described Sargent-Wilson's ability to run offensively and defensively as one of her strengths, a trait that she has learnt from admiring a now rival, AFLW player from across the city.
"I've always looked up to Alyce Parker from the Giants. She's a player who's super strong in both offensive and defensive measures. So, I've always admired her ability to be able to take on the game in those aspects. She's also an amazing role model and leader," Sargent-Wilson explained.
"I've been lucky enough to meet Buddy Franklin, Isaac Heeney and Callum Mills. They're also lovely and have been quite helpful with sharing their own experiences and knowledge that they've learned from their careers with me, which has been awesome and really reassuring to know that the club's life that."
The Sydney Swans' AFLW list has now grown to 15 players and counting with the team's first ever pre-season expected to begin in the coming month.
Sargent-Wilson has been residing in Queensland recently as she works towards earning a bachelor's degree in Sports Management at Bond University, keeping busy as she balances her studies with life as a professional athlete.
"It's not going to be easy… we have an amazing support system, there's so many people around us at the Swans who are able to help out if we if we need and same thing with (Bond) University."
Subscribe to our newsletter!
About Author