'You have to come and watch us': Northern Bullants connection unbreakable after third win straight
After the Northern Bullants claimed their third win straight, match-winner Jean-Luc Velissaris is urging fans to get down to Preston City Oval and see the 'connection' the team is building.
The Northern Bullants won back Bell Street as a standalone side for the first time in nearly 21 years, to the day.
A rivalry labelled the 'Battle of Bell Street,' the Ants downed Coburg by a solitary point away from home at Piranha Park on Sunday.
The first encounter between the two sides in the VFA was in 1926, the Lions coming away with the win to the tune of 43 points at Preston City Oval.
It was a rivalry that meant so much to so many in the halcyon days of the VFA, and it's that history the Bullants are drawing on in 2021.
While it was big man Daniel Hughes who came away with the Harold Martin Medal (named after the legendary coach for both clubs), it was one of his teammates who sealed the match.
Young forward Jean-Luc Velissaris kicked the winning point in the dying stages of the final term, holding off the Coburg charge to hang onto a legendary victory.
Speaking to The Inner Sanctum, he praised his teammates for keeping the game on their terms until the final siren sounded,
"Yeah it's a weird one," Velissaris laughed.
"You don't really get proud of kicking a point, but it was all we really needed at the time. The guys did well to hang on in the end. I guess the relief of that being all we needed was better at the end than it was at the time."
More Aussie Rules News
SANFL Wheelchair Football League opens new chapter for Aussie rules
Dunstan Luke-warm no more as Saints midfield heats up
An ode to Jack: The kid from Clarence to Apple Isle Royalty
While he didn't manage to kick a major, it was another strong game for Velissaris off the half-forward flank. He's averaging 15 disposals, four marks and two tackles for the year, and has also kicked seven goals.
He's now hit the scoreboard in six of his nine games, his best season for goalkicking since his draft year in 2017 with the Calder Cannons.
Velissaris has truly begun to establish himself as a part of this Bullants side. He speaks proudly of the improvement he's seen in his own game so far this year.
"I've always tried to have that impact in my game, the ability to hit the scoreboard.
"In recent weeks a few have gone a bit astray… kicking 1.5 [against Richmond], I wasn't proud of that. I know if I'm getting those opportunities I know [goals] will come. If I'm getting myself in scoring positions, then hopefully the finishing will look after itself."
With form building week upon week for the Ants, Melbourne's five day lockdown couldn't have come at a worse moment.
Victorian state and local football has been suspended for the weekend, with the VFL games and VFLW preliminary final missed to be rescheduled for as soon as possible.
Velissaris says it's something that the coaching group has discussed with the players. He believes they'll get through the lockdown and come out just as strong on the other side.
"It's just about staying connected really, and being ready for when we do get the next chance to play," he said.
"If it's as soon as next week, we've got to be ready to go… not forgetting about the game, staying active in it and continuing to think about it…not switching off. We've got five days in lockdown but it doesn't mean we stop.
"We still have to do something. We stay in the game for sure, and the coaches really drive that."
The coach's marching orders
Having spent two years with the Northern Blues before the subsequent COVID lockdown and split from Carlton, Velissaris has already established a strong relationship with head coach Josh Fraser.
Velissaris credits his coach's ability to bring people together, and drive them towards a common goal. He believes that has made all the difference for the Bullants performances this year.
While it's been something Fraser has stressed the importance of all season, the last three weeks have shown the fruits of that work.
"He really drives us… and gives us reason to want to do something, to want to win games," Velissaris explained.
"To do it for not just us, but for people outside the club that it means something to. Sometimes it's not just about a football game, there's a lot of passionate people out there. He's got a great passion for the club, and he expresses that enormously.
"It just makes you want to be there. Sometimes footy can be overwhelming, sometimes it can be at the front of your mind 24/7.
"Being able to have discussions about things outside footy and having people care about what you do with your life and how work's going, what your other interests are, that's massive in actually enjoying the environment and being around the place."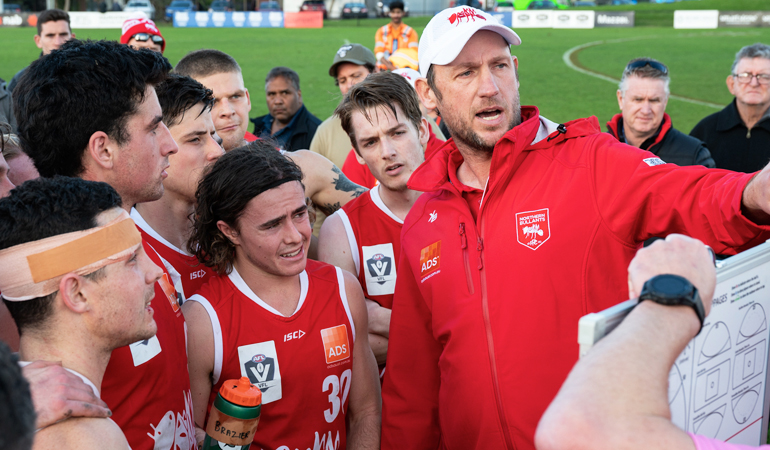 Bursting the travel bubble
As for the Bullants plans for the season post lockdown? Travel, hopefully.
They've been scheduled to travel up to Queensland to face the vicious second-placed Southport Sharks, but both attempts have been shutdown by Victoria's lockdowns.
"We're itching at the bit to be able to get away together, and just experience that," Velissaris said.
"There's quite a few guys that have never done that before. We didn't get a chance to go on a camp this year and get away because of the issues with COVID. The chance to get to travel, even if it is for only two days, those sort of things can bring you together even more."
While Velissaris and his teammates were disappointed at the postponing of the game, he believes their connection continues to grow.
"The connection between the group, it's second to none.
"You have to come and get down and you have to come and watch us. You have to see the way we celebrate each other. It doesn't matter who kicks a goal, doing things like smothers, tackles, blocks, that sort of stuff stands out to how much this group loves to play together. We've played all of nine games.
"There's been changes here and there, as happens in footy, but the majority of guys have played together for nine games. If you were there, you'd think we'd have been together for a few years.
"A lot of people were probably writing us off for the year [after six losses straight], thinking we weren't going to go too well, but in the background we're thinking we're actually going to challenge a few if not all sides this year. We're going to be hard to play against.
"The history of the club as well is such a driving factor. It's such a proud club, and wearing that red jumper with the ant on it, it's definitely something special."
Subscribe to our newsletter!
About Author