Adelaide 
Ladder Position: 1st (7-2, 208.4%) 
The competition's only two-time champs are perfectly poised for another premiership assault, with a handful of last round results going their way seeing them claim the minor premiership.
It is no secret the Crows possess a star-studded lineup, with dual MVP winner Erin Phillips leading a team that is hungry at the contest and full of electric dash. 
Starting through the middle of the ground, opposition teams have struggled all season to curtail the inside grunt of dynamic duo Anne Hatchard and Ebony Marinoff, who's ability to win the ball at the contest has gone a long way to setting up their exquisite ball movement. 
This is well supported by their extraordinary firepower up forward, with an isolated Phillips in the goal square causing nightmares for defenders one on one.
Whilst the likes of Stevie-Lee, Danielle Ponter and Teah Charlton make the most of their opportunity, with one of the trio seemingly able to get off the chain in every match. 
No side is complete without a stout defence, and the Crows are without a doubt well stocked in this regard. Led by courageous skipper Chelsea Randall across half back, opposing teams have constantly had trouble putting winning scores together against Adelaide, with talls Sarah Allan and Marijana Rajcic doing an excellent job in stopping the competition's most dangerous forwards. 
Adelaide's constant pressure was another highlight of its game, with the likes of Rachelle Martin, Hannah Button, Dayna Cox and Madison Newman key cogs in effecting opposition turnovers and getting Matthew Clarke's game style up and running. 
Despite all the positives that have come out of the Crows season, there is a set blueprint in causing them trouble with both Fremantle and Melbourne managing to exploit them with elite tackling pressure.
Both teams were able to take advantage of the territory battle in these match-ups and the Crows found themselves unable to move the ball from their defensive half. 
Overall, the Crows come into this final series as good a chance as any to add to their trophy cabinet, with their experience and hard edge difficult for competitors to stop. 
Zac Standish
Brisbane 
Ladder Position: 2nd (7-2, 195%)
No stranger to finals appearances, the Lions have made the postseason in four out of five seasons of the competition – missing out in 2019 – so they know what the pressure is like.
However, that pressure has got to them in the past, losing two Grand Finals (in 2017 and 2018) before a semi-final loss to Carlton last season.
Second-year player Dakota Davidson has done wonders in the forward 50, kicking 13 goals, finishing three goals behind the year's leading goalkicker, Carlton's Darcy Vescio.
Davidson will need to fire again and will be hoping the Lions don't come up against the Dockers or the Pies as they kept the Lion goalless in earlier meetings this season.
It's no secret Brisbane like to share the ball around but Emily Bates has truly stood out this season.
Despite being down on last year's form, Bates has provided much-needed determination and grunt in the middle for Brisbane with her contested ball use and tackling sparking the Lions into gear. 
Similarly, a woman who plays her role has been Catherine Svarc. The tagger has become a premier defensive midfielder this season and shut down star players such as Brianna Davey and Monique Conti and will be looking to replicate that during the finals campaign.
The Lions will need Tahlia Hickie to perform well in the ruck and after receiving a Round 9 Rising Star nomination it should create some momentum and positivity into the next few weeks. 
A four-quarter focus from the Lions will ensure they are red-hot favourites for the premiership and will be hoping their experience at this end of the season will finally pay off.
The Lions have started games well this year but have only recorded two or more goals in the final term twice. The home ground advantage should work in Brisbane's favour – winning four from four at home this season.
Jason Irvine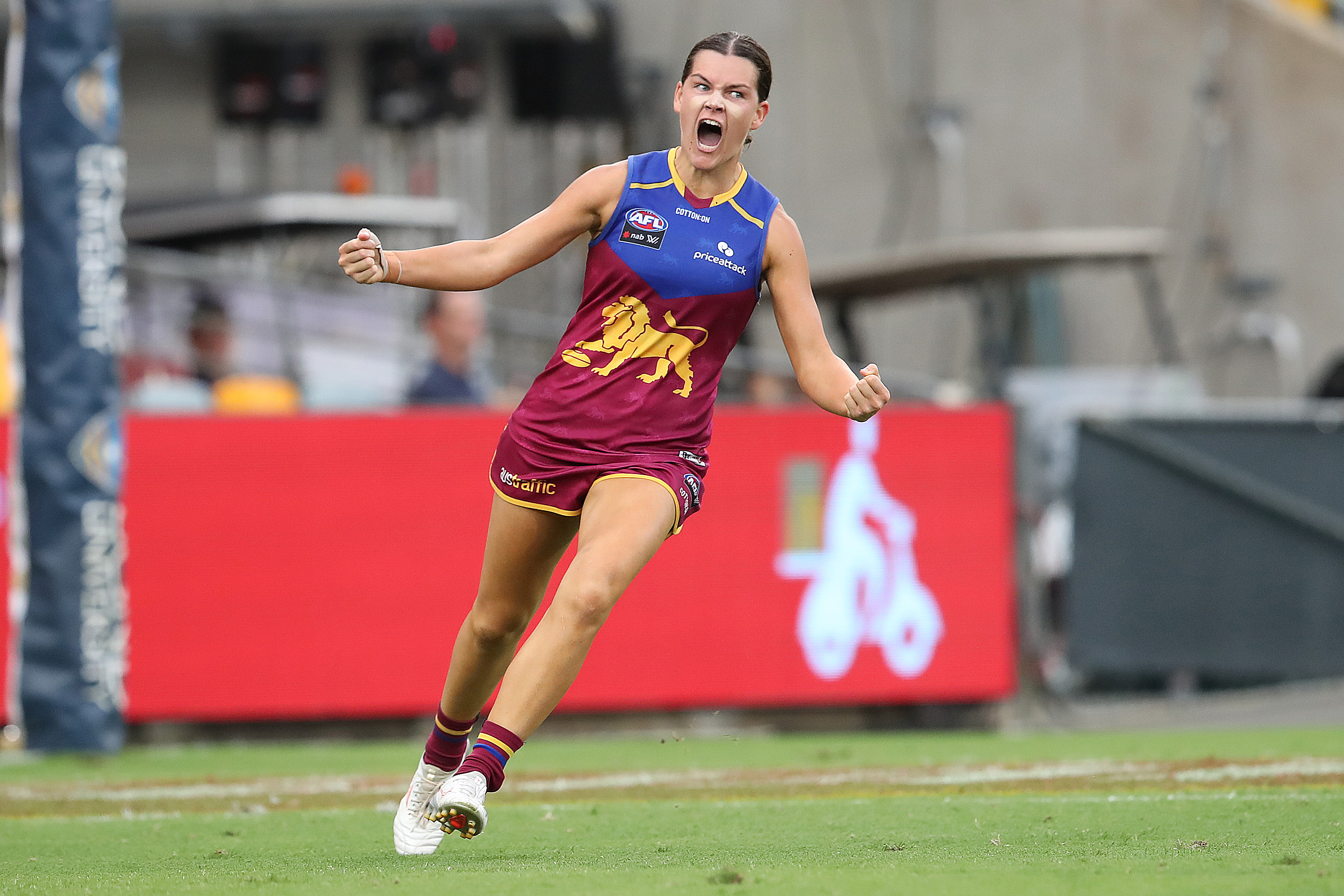 Collingwood 
Ladder Position: 3rd (7-2, 190.5)
Collingwood left a few surprised dominating the beginning of the season, winning its first six games of the season before falling short to fellow finalist, the Brisbane Lions. 
A round nine loss to the Adelaide Crows makes you wonder if Collingwood do have what it takes to triumph over the league's best and secure its first grand final win in the AFLW. 
Coming up against North Melbourne in a home qualifying match at Victoria Park, the Pies will need to draw off their win in round four, when they kept the Kangaroos goalless.
North hold a slighter upper hand comparing midfields, but with the likes of Brit Bonnici, Brianna Davey and Jamiee Lambert who bring footy smarts along with their talent, there is much potential for Collingwood to take home the win. 
Despite their loss to Adelaide, the three midfielders accumulated 22, 22 and 25 touches respectively, giving the Pies some confidence that there is working being done to get the ball down forward. 
Awaiting the ball, is Chloe Molloy, who although may not be in her 2018, best and fairest, best first year player form, you can count on her reliability up forward.
Molloy finished with 14 goals for the season, finishing equal second best, only two goals behind Carlton' Darcy Vescio. 
They will then have to face Brisbane in the preliminary final, which will prove a challenge. But being so close making their first grand final appearance, anything is possible for the Pies. 
Tricia Mifsud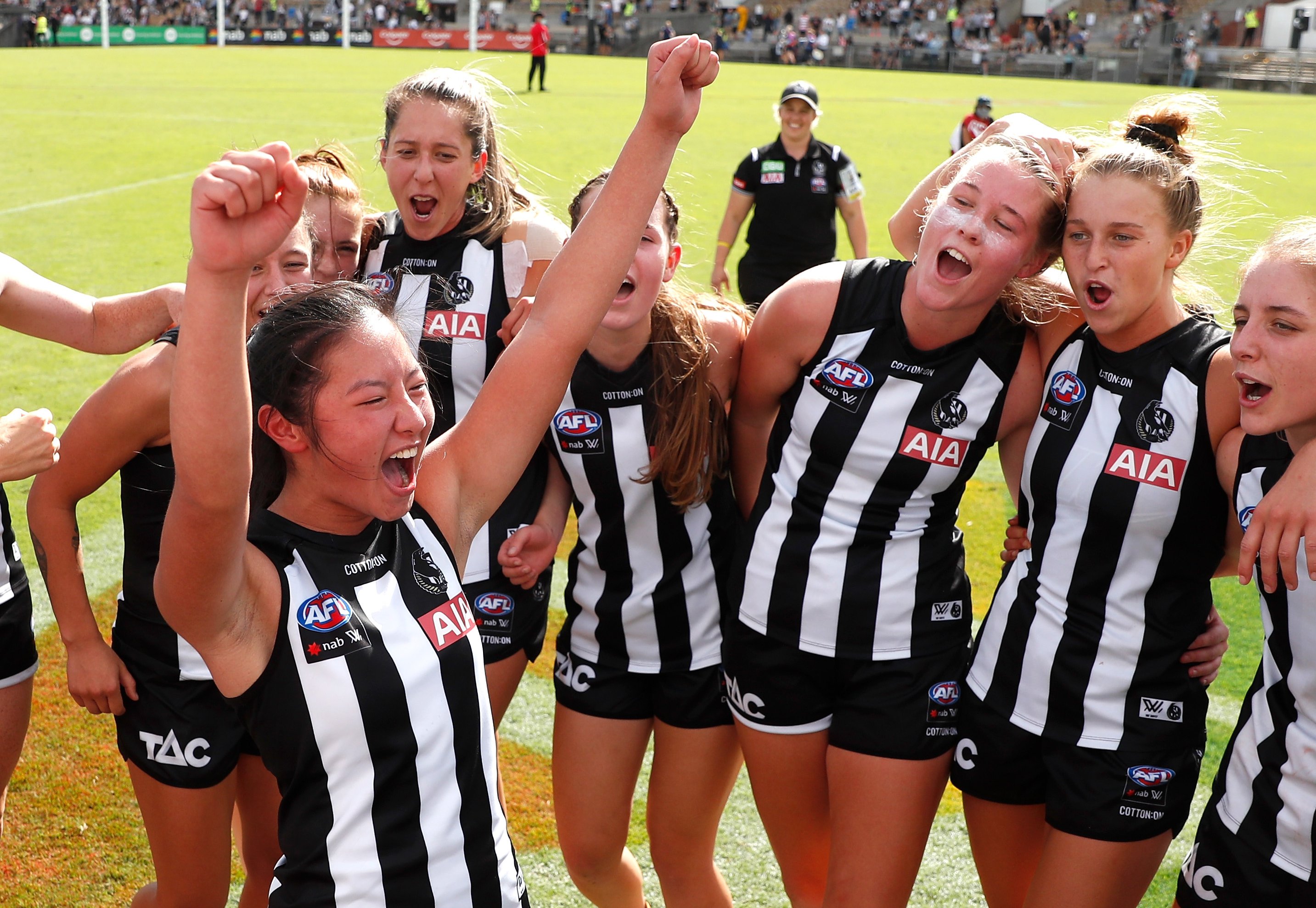 Melbourne
Ladder Position: 4th (7-2, 130.4%)
Four wins straight including against fellow finalists Adelaide, Fremantle and Brisbane, the Demons are one of the form teams coming into the finals.
A home game at Casey Fields against the Dockers, who they beat in Fremantle just two weeks ago, will give them confidence.
The biggest factor riding against the Demons coming into finals is the loss of veteran head Daisy Pearce to a knee injury, with the star spotted in a leg brace post-game.
Pearce started the season strongly off the half-back line, before her fluctuating form saw her moved into the forward pocket.
There are no doubts around the Melbourne midfield group.
Tyla Hanks has been a breakout revelation in the middle this year, averaging 19 disposals, five tackles and two and a half inside 50s. Karen Paxman and Lily Mithen have similarly kept up their strong form from 2020.
Question marks do surround the forward line. Kate Hore has kicked 11 goals, but has had multiple scoreless games to go along with a bag of three and multiple two-goal efforts.
Experienced pair Tegan Cunningham and Shelley Scott have been similarly inconsistent.
If the Demons can beat Fremantle, they'll play Adelaide in South Australia, who they knocked off earlier in the year by a convincing 29-point margin.
They kept the offensively dangerous Crows to a miserly 15 points, their second lowest score of the season.
With a strong balance between veterans, players in their prime, and young firecrackers, the Demons have shown that they can battle with the best of them.
They'd have to do it the hard-way to win a flag, but the form they've built up over the past month will keep them in good stead for a tough slog ahead.
Confidence is the key for the Melbourne Demons.
Alex Catalano
Fremantle
Ladder Position: 5th (6-3, 185.1%)
Fremantle enters this final series as a factor in the premiership race, but admittedly with less lustre than earlier in the year.
After initially extending its winning streak to 11 games in a row, the Dockers' undefeated run came to end against Brisbane in Round 5 and they have lost their last two games heading into finals.
A key flaw in Fremantle's game is its slow starts in first terms, something coach Trent Cooper has identified numerous times.
It has gone goalless in four of its last five first quarters, giving up three-goal leads to Carlton and Melbourne respectively, and it was fortunate that it didn't trail by more against North Melbourne at quarter-time last Saturday.
While the Dockers got home against the Blues with a blistering surge in the final term, they fell by less than a goal against both the Demons and Kangaroos.
The closeness of these losses shows that they're good enough when they get going, but they dig themselves into a hole with their slow starts.
Despite this, Fremantle has all the tools to potentially make a Grand Final. Kiara Bowers was recently crowned the AFLCA champion player of the year and is arguably the favourite for the AFL Women's Best & Fairest after another stellar season.
The firepower of Gemma Houghton, Sabreena Duffy, Roxanne Roux and Gabby O'Sullivan up forward can turn a game in a matter of minutes, as seen against Carlton. While an unheralded, but strong backline has stood up all season.
Fremantle is an experienced and talented team entering its third straight finals campaign, but to win the Premiership it will need to do it the hard way with three games on the road.
Its Qualifying Final against Melbourne this Saturday will be the perfect test to see what the Dockers learnt from their five-point loss to the Demons just two weeks ago.     
Hamish Spence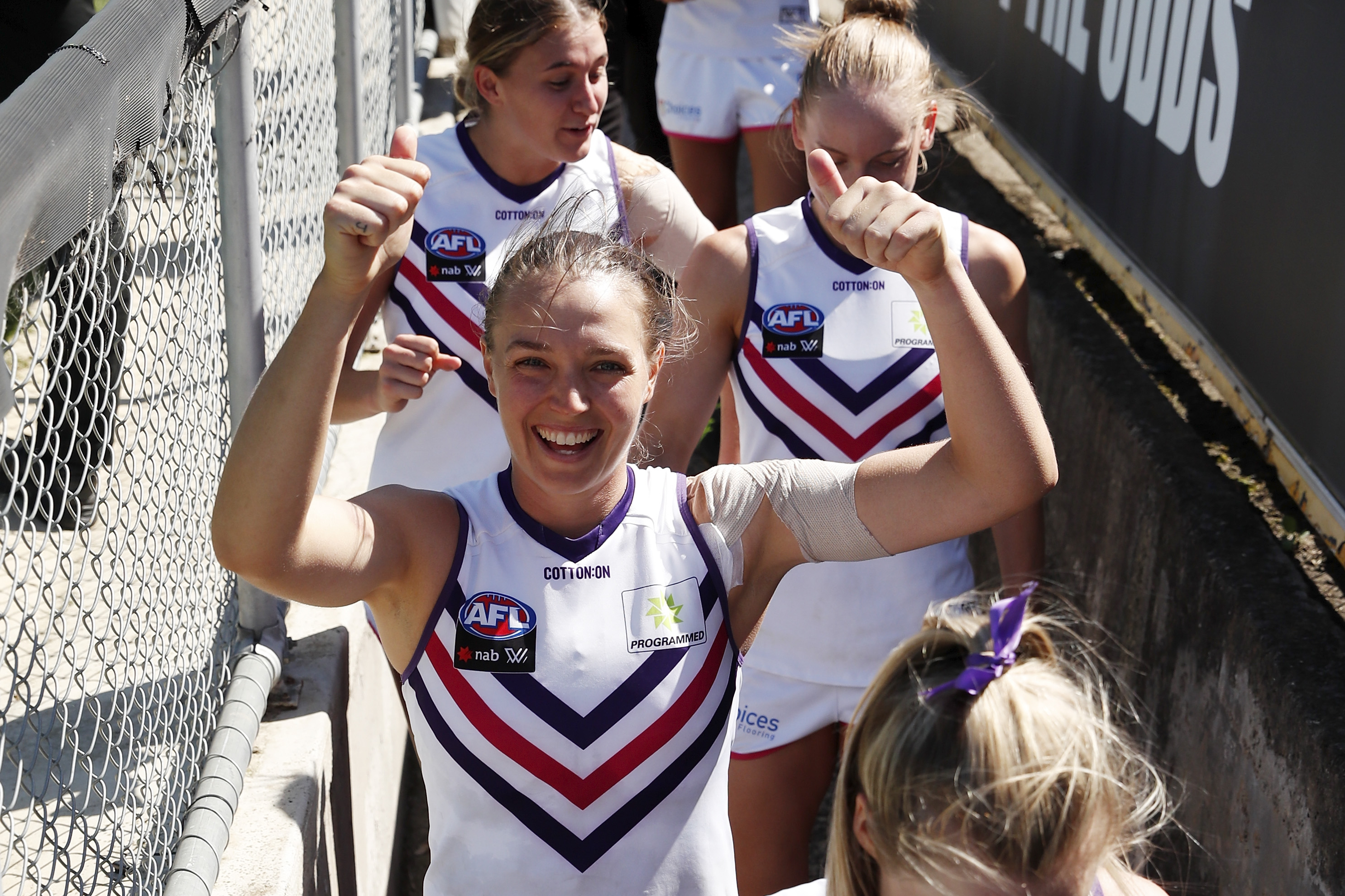 North Melbourne 
Ladder Position: 6th 6-3 142.5% 
North Melbourne just scraped into the finals series after defeating Fremantle last week, but that doesn't mean that it is any less of a threat.  
The Kangaroos started off the season with a bang, defeating the Cats down at GMHBA Stadium by a whopping 62 points. 
The obvious knock on North Melbourne going into this finals series is that they've only beaten one other finals team in Fremantle last week to secure its spot in the finals. 
There is a lot of upside in this North Melbourne side, with the depth enormous. 
Last week North Melbourne was without one of its best midfielders in Jenna Bruton but due to the side's determination, versatility and depth it was able to get the job done without her. 
One Kangaroo that has flown under the radar is Tasmanian born Daria Bannister.
After having a luckless run of injuries in her AFLW career prior to 2021, Bannister was able to show what she can do the best in applying that scoreboard pressure and really hurt the opposition teams. 
North Melbourne will be looking to dominate from the get out against the Magpies, especially after the last clash against Collingwood left them goalless. 
Elly McNerney
Subscribe to our newsletter!