Graham keenly anticipating Tasmanian WBBL 'showcase'
Going from her new home to her old and back in the next week, Perth Scorchers all-rounder Heather Graham is keen to showcase WBBL cricket to Tasmanian crowds.
When it was announced just over a month ago that WBBL|07 would be beginning in Tasmania, the tournament became a homecoming of sorts for players across the competition.
The Tasmanians of the league get the chance to play in front of family and friends across October. Not only that, but they get to live life as normal.
Sleeping in their own beds, going to their regular café spots, exploring the streets of Hobart and Launceston. One of the few COVID-free states in the nation, it was an obvious selection.
It was then announced three days ago that the Victorians and New South Welshwomen of the WBBL wouldn't be seeing home for at least a month.
For the likes of Courtney Webb (Renegades), Corinne Hall (Thunder), and Elyse Villani (Stars), they'll get to run around on both old and new stomping grounds from their domestic careers.
The same can be said for recently turned Tasmanian Tiger, Heather Graham.
A born Western Australian, Graham played domestically for her home state in the WNCL for nine years before following her heart to Tasmania, joining partner and now Tigers teammate Emily Smith.
While she continues to play for the Perth Scorchers, Tasmania is well and truly home now.
Graham spoke to The Inner Sanctum on the announcement of the season's commencement in her adopted state, as well as the move as a whole.
The move so far has been one that, while at a challenging time for most, came about without much issue.
"I think over the last year or so now it's been really nice to move away from what was home, and experience something different," she said.
"The way the team accepted me and the coaching staff was really good. It was quite a comfortable and easy move, and I think I've really enjoyed my time down here so far.
"We were really excited for the fact that women's cricket is going to be showcased down here in Tassie.
"There's been a bit of success over the last year or two in the WNCL side of things, so to be able to bring it down and showcase all of Australia's talent in Hobart and up in Launceston is going to be really good for Tasmania."
More Cricket News
'Someone has to stand up': 'Wall Street' shows off new bag of tricks
Australia vs India: McGrath's game-winning first international T20 knock delivers Aussies series win
A Hurricanes blessing as Priest earns captaincy
The Tigers made a sharp rise from finishing second last in the 2019/20 season to finishing third the year after.
Hobart Hurricane Nicola Carey starred with both bat and ball, and spin superstar Molly Strano's addition was immediately felt.
Graham was no slouch either, starring in the last game of the season against South Australia with a 5/44 haul with the ball, including dismissing young batting sensation Josie Dooley after her maiden century.
She continued that strong form in the inaugural season of The Hundred with the Trent Rockets with a 3/14 against the Welsh Fire. Stepping into the crease in the middle order against Birmingham, hitting 44* (21) to help deliver an 11 run victory.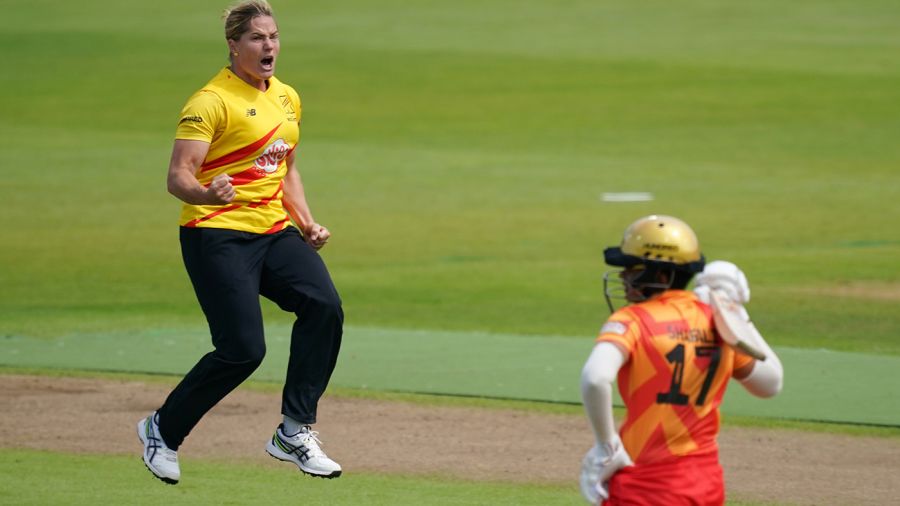 Graham credits her recent picking up of form after winning the Women's Domestic Player of the Year in 2019 to the relocation.
"I think I've progressed quite nicely down here," she said.
"We've gone about training quite different compared to what it was like in WA over the past few seasons. Learning some new things and exploring my game and trying to expand it has been quite nice with some different coaches down here."
Though the all-rounder's bowling has taken the headlines as of recent times, she's just as confident in her batting skills heading into another WBBL campaign.
"I'm happy with both, to be completely honest," Graham said.
"I think I've found that confidence and grown into the game I know I want to play with both the bat and the ball. It's been nice to put that out on the park and into the games for the team."
Across the pond
Founded in 2021, The Hundred completed its first edition in August. Eight teams with both men's and women's sides went head-to-head, the Southern Brave and Oval Invincibles claiming the championships respectively.
Graham's Rockets finished seventh, but it didn't stop her from enjoying a strong season.
She took six wickets and scored 125 runs across her eight matches, one of the standout all-rounders in a side that struggled to maintain their early tournament form.
The 25-year-old nearly didn't get over there in the first place, weighing up the dangers of travelling in the middle of a global pandemic.
"I really enjoyed The Hundred," Graham said.
"It was something that was quite late notice, and that probably made it a little more scary, the fact that I was going over there in COVID times and all that sort of stuff.
"Once we got over there the format, the people, and the crowds as well, it was really exciting. I've taken a lot away from it, both in my game with the bat and ball.
"It was [my] first time for hotel quarantine, but I've had to quarantine twice at home in Tassie. It was actually quite a different experience.
"The fact that you can be outside and you have a little bit more space than just the four corners of a hotel room, it makes such a big difference. The ability to have that fresh air and be able to do a little bit more rather than being in a confined space in a hotel room, it was really different."
It also meant being away from Smith again after spending the better part of the last year together.
Graham wasn't too deterred however, already familiar with the challenges posed by feeling a world away from the people closest to her.
"It had its ups and downs," she said.
"My last year in WA, we did long-distance anyway, so we're pretty used to doing the whole long-distance sort of thing. Had its moments with time difference being quite different to what it is in Perth and Tasmania, but we got through and we're all good."
With less than a week to go until the start of WBBL|07, Graham is set to jet off to Western Australia to reunite with the Scorchers squad, before jumping back on a flight the other way for their first game – against the Brisbane Heat – on Sunday, October 17.
Meeting back up with her teammates is pushing her through the chaos of the week ahead.
"This will be the first time since the WNCL last season that I've seen most of the girls," Graham said.
"It's been a fair while, but I think it'll slide right back in. It'll be good to have a full squad catch up back down here in Hobart.
"It's a pretty good buzz around here at the moment, and I think everyone's just excited to get back out on the park and play some good cricket."
Subscribe to our newsletter!