Frew the 'ups and downs,' star Bomber still looking forward
Federica Frew has had to watch on the sidelines as Essendon make a historic VFLW finals run. It's been a hard path for her to overcome the mental side of being injured.
Federica Frew's best game of the 2021 VFLW season was also, shatteringly, her last.
Essendon's livewire forward was building a run of incredible form across the first two months of the season. She'd kicked eight goals coming into the round nine clash with Carlton, but had been goalless the week prior.
Of her admission, both her form and the form of the team hadn't been at its strongest against Collingwood.
That wasn't enough of a barrier to stop Frew from doing what she does best: impacting the scoreboard, over and over.
"We'd had a tough loss the week before against Collingwood," Frew told The Inner Sanctum.
"I had a few family members there watching [against Carlton], I saw my uncle on the hill just behind the goal. I had some friends coming along to watch… they hadn't seen me play before, because I'm still kind of new to the sport."
Though she is new to the sport, Frew did play footy as a junior.
She entered the VFLW from a soccer background, which she only took up playing, she says, because she wasn't allowed to play footy past a certain age.
More Women's Sport News
Emily McGuire backs Swans' youth against reigning premiers
2021 NAB AFLW U19 Championships All-Australian Team announced
Basham bashing down the Lightning's door for another year
On that day at Windy Hill, she looked like a player who'd been playing her entire life.
Frew had already become a renowned goalkicker from distance, but the VFLW hasn't seen many like the one she launched from 45 metres out. Making it all the more sweeter, was the response from the crowd.
"In the moment I'm pretty in the zone," she laughs as she admits she didn't hear the vocal Essendon response.
"Now remembering it, coming off after that goal was quite nice. It was a good feeling… it was probably the best game I've been able to put together in my football career.
"My dad's super passionate, and I've got a few friends and my partner who were in the stands. They just love watching sport, so it was probably them [cheering].
"It was one of the most fun and best games I've been a part of at the club – aside from the final on the weekend."
There's a slight hint of what she refers to as "darkness" in her voice as she says those last four words.
Frew had been suffering from a rare nerve injury earlier in the season, which caused constant pain in her calf. After the Carlton game, a disc became dislodged in her back, pressing on the nerve and making the sensation even worse.
It meant that after round nine's win, Frew wouldn't step onto the footy field again for the rest of the year.
As the Bombers looked more and more certain to be entering their maiden finals campaign, she admits that it wasn't easy to give up hope that she would be there alongside her teammates.
"It's been a disappointing end to the season personally for me," Frew said.
"When I was first injured, it was kind of an innocuous injury, it was just kind of random, I was putting a lot of pressure on myself to come back and play finals.
"I had to shift the goalposts a couple of times, and when it became clear I was most likely not going to play again this year, it was a bit of a turning point for me mentally to then being able to get around the girls as best as I can. I was mostly focusing on me and getting me right.
"But it was just after the Darebin game when I [knew] I probably wouldn't play again this year. I just started to get around the girls more, obviously do my rehab and recovery, but be out and help my teammates as best I can."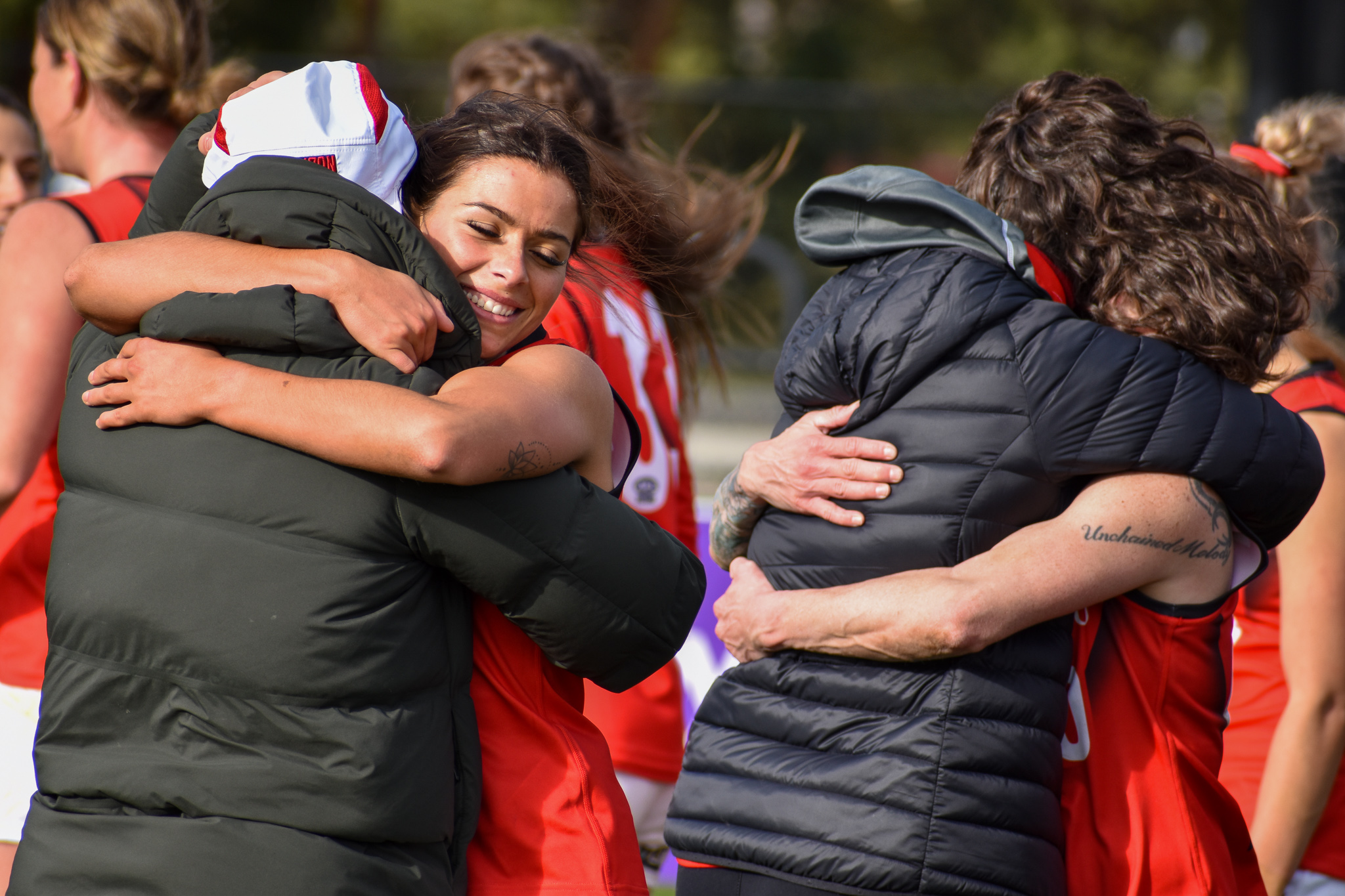 You're never alone
Unfortunately for the Bombers, Frew hasn't been the only one forced to miss out on their finals dream.
There's a large contingent of injured players working to get back out on the park at Windy Hill. While it's clear it hasn't slowed the Bombers down on-field, the off-field work still needs to be done.
Frew is incredibly grateful that she doesn't have to go it alone, through what has been one of the most challenging periods of her career so far.
"I wish we didn't have injured people and there was no injuries," she said.
"We've had a few people injured towards the end of the year, which was disappointing for them as well. You want to play every week, but you can't control it.
"I've had 'Logga', Eloise Gardner, she's been pretty much side by side with me in the rehab. Then there's girls as well, Alex Quigley, unfortunately she's been in a moon boot for a while and just been doing rehab.
"It's nice for us to have a little crew. We try and get coffee and try and get to games together, and try and keep the vibes up in the gym. Sometimes it does get a little dark and everyone's a bit down sometimes. We just try and be there for each other and try and help each other out, because we're all on the same boat.
"Especially with finals, it can get a bit lonely in the gym. But it's been good to have a little crew working hard together in the gym to push together to get back for the pre season, or whenever it will be."
Though they may be missing their star goalkicker, the Bombers forward line hasn't gone without.
Experienced veteran Mia-Rae Clifford has been a rock at full-forward while a young group including Tara Slender, Zali Friswell and Alana Barba are providing that youthful spark.
The Bombers put one of their highest scores of the season in the final round against Darebin, putting their bottom-of-the-table opponents to the sword.
Frew has noticed the selflessness that the forward line group displays, both at training and on game day.
"It's really a testament to the structure and the system we've got in place, and the game plan that has come from Major and Gav [Gavin Urquhart] the forward line coach," she said.
"It means that anyone can kind of come in and we just play our role. Obviously everyone brings a little something different to the game. I think it's a testament to the girls as well to have that resilience and keep going and stick to the structures.
"Especially after a few tough games against Geelong and then the Dogs and then North, to just stick with it and not stray from the path and just have belief that this is the system, and we know it works.
"We just have to stick with it and make some little tweaks here and there, but get around and help each other out on the field. They've been great, I really enjoyed watching the forward line.
"It was awesome on the weekend in that second quarter, just watching us kick. We had so much possession and kicked so many points as well… seeing all these goals kicked and how excited everyone was."
The semi final of fate
Having earned a double chance with the win over Casey last weekend, the Bombers enter uncharted territory in the semi final.
Lose, and they play the winner of Geelong's match up with the Southern Saints. Win? And it's a ticket straight to the grand final at Ikon Park.
They've come this far, through years of building and building as a team.
Collingwood, as everyone is constantly reminded, is still undefeated. Essendon is the team that has come the closest other than Geelong, within two kicks of the mighty Pies on ANZAC Day.
Frew says every single player is aware of the enormity of the task that faces them at Victoria Park on Saturday.
"It'll have to be a huge effort this week, we know how strong they are," she said.
"They are undefeated, and we're the underdogs. We kind of play well when we've got our backs against the wall, so anything can happen.
"We've got a lot of elite players, and it's that old saying: a champion team will always beat a team of champions. Hopefully that rings true for us this weekend and then in the granny as well.
"Anything can happen."
Subscribe to our newsletter!
About Author