Diving deep: Daniel Ricciardo's 2021 F1 season in review
An overall average 2021 F1 season still came with its highlights for Daniel Ricciardo and McLaren, including a famous race win at Monza.
After an outrageous and extraordinary ending to the 2021 Formula One season, The Inner Sanctum takes a look at Daniel Ricciardo's maiden season with McLaren Racing.
It was straightforward, Ricciardo had an average season. The West Australian finished eighth in the drivers' standings, well behind his teammate Lando Norris by 45 points.
Despite the below-average performance this season, Ricciardo still scored a win at Monza, claiming the only 1-2 from a constructor this season.
Ricciardo's infamous win at Monza proved to be only to be the only highlight of the Australian's season, as he struggled to get to grips with the MCL35M powered by Constructors Champions, Mercedes.
He started the season somewhat strong, finishing inside the top 10 in four consecutive races but troubles at Monaco, Azerbaijan, Styria and Austria halted his season.
Issues in qualifying also caused further problems. Unable to finish inside the top 10 on multiple occasions saw him stuck well within the midfield battles for further races in Hungary, the Netherlands, and Turkey.

A DNF at Brazil and another two midfield finishes in Mexico and Abu Dhabi further compounded the Australian's struggle with his car.

Despite all the negative results, there were three extremely positive race results for Ricciardo:
That Monza win:
Ricciardo qualified second at Monza with an electric lap that also saw McLaren team-mate Lando Norris claim a great position in an excellent qualifying session for McLaren. Ricciardo produced an electric start, jetting well in front of his teammate and past championship winner Max Verstappen into the first corner.
McLaren made the early gamble to pit the race leader, bringing in Ricciardo on lap 23. The team's gamble worked perfectly, as Ricciardo flew around the track, putting pressure on race leaders at the time, Verstappen and Lewis Hamilton.
Again for McLaren, this paid off, but this time in a bigger way. Heading into turn one, Verstappen and Hamilton collided, forcing both to retire from the race and promptly bringing out the safety car.
Ricciardo regained the lead on lap 27 after a vast amount of cars dived into the pits. He took home his eighth career win and his first win since the Monaco Grand Prix in 2018.
Post-race, Ricciardo spoke on his win with the short and simple, "about time".
"There was something in me on Friday, I knew something good was to come," he said.
In typical Ricciardo fashion, he celebrated within a shoey.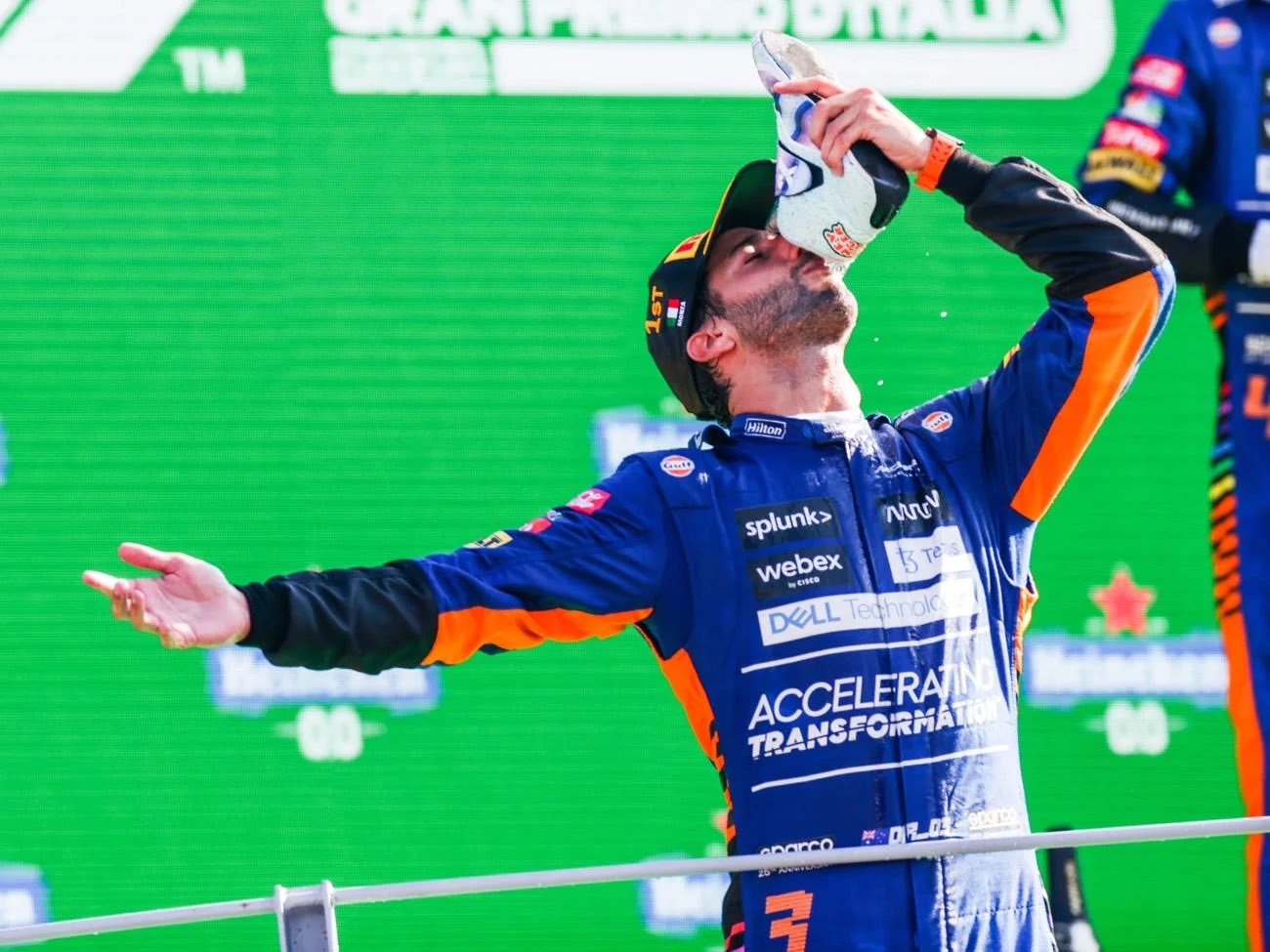 More F1 News:
Abu Dhabi GP: Max Verstappen wins first F1 crown in dramatic fashion
Piastri with one hand on F2 Championship as horrific crash overshadows race
Saudi Arabian GP: Lewis Hamilton prevails in action-filled race in Jeddah
An excellent race result at Russia:
Ricciardo was able to steer his MCL35 into fourth place in Sochi after a brilliant win at Monza.
Unfortunately for McLaren, it was the only positive race result after Norris bottled a win after starting as race leader from when he took pole prior in qualifying.
After qualifying fifth, Daniel made an error on his race start which saw him drop down the places and nearly out of the top 10.
There was a change in the weather for Ricciardo though. A rainstorm passing over the circuit saw Norris refuse to pit for his wet tyres, a decision which ultimately cost him his maiden F1 win.
Ricciardo pitted for a tyre change and shot up the race standings, claiming a brilliant fourth place after being in a midfield battle for the majority of the race.
Unfortunately for Ricciardo, a slow-pit stop could have cost him a race win, and at the bare minimum a podium at Russia.
"P4 is a solid result. Good points and, I think, for those tricky conditions, it's always nice just to get out with your nose clean," he said.
"There are definitely some positives and personally still a few things to work on, so we'll keep our head down."
A disaster-class in Brazil:
After qualifying eighth, the Australian looked to rewrite his wrongs from a previous race at Mexico after an engine issue forced a disappointing 12th place finish.
Fighting hard for seventh and looking to gain on Pierre Gasly in the AlphaTauri, his team halted his progress and forced an early retirement due to a PU issue.
The DNF at Brazil signalled a run of bad results for Ricciardo at McLaren, followed up with a 12th result at Qatar.
Overall, Ricciardo scored his season lowly, noting that across the 23-race season he was giving maximum effort while dealing with major personal issues after being away from family for two years.
"So if I say… three, it comes across like I haven't tried. But it hasn't been without trying – the first part of the season is probably a four, the second part a seven," he said. 
"I've got family support in McLaren, but I don't have my family.
"You wouldn't think in, let's call it bad times or a bad year, you would discover something good about yourself."
Subscribe to our newsletter!
About Author