Co-captains Proud and Hadley commit to the Swifts until 2023
Swifts championship co-captains Paige Hadley and Maddy Proud have put pen to paper, re-signing until the end of 2023.
NSW Swifts captaincy duo Maddy Proud and Paige Hadley have committed to the club for two more years, extending their stay until the end of 2023. For all the Suncorp Super Netball signing news, stay up to date with our Off-Season Hub and follow The Inner Sanctum's netball podcast, Over a Third, on Twitter and Instagram to get the news when it breaks.
The pair led the Swifts to their second championship in three years in what was one of the hardest seasons for the club, having to travel across multiple states and being without coach Briony Akle while she was in isolation in South Australia.
Proud, who's been at the club since 2017 after making the move from the Adelaide Thunderbirds, played her 100th game this season. She finally got that elusive premiership medal around her neck, after missing the 2019 championship due to an ACL.
She has been captaining the Swifts since 2019, and demonstrated her toughness by playing through the 2021 Grand Final with a broken rib.
"I wasn't prepared to go through that physical duress and give up the chance to run out in front of our fans in Sydney as reigning premiers next year," she said, smiling.

Proud added that playing for another club was never an option.

"I have loved being a part of the Swifts since moving from Adelaide after Suncorp Super Netball replaced the ANZ Championship and have really found a home in Sydney.

"With Briony at the helm and sharing the captaincy with Paigey, I have learned so much about the Swifts teams of the past and I think we've given ourselves a great shot to continue their legacy.

"It's a bloody great club with top people on court, off court, in the stands and wherever people tune in from around NSW and further afield.

"The Swifts have also given me the platform to make the Diamonds squad and now I want to take my game to the next level. I'm up for it and the Swifts are up for it, so I can't wait to get started."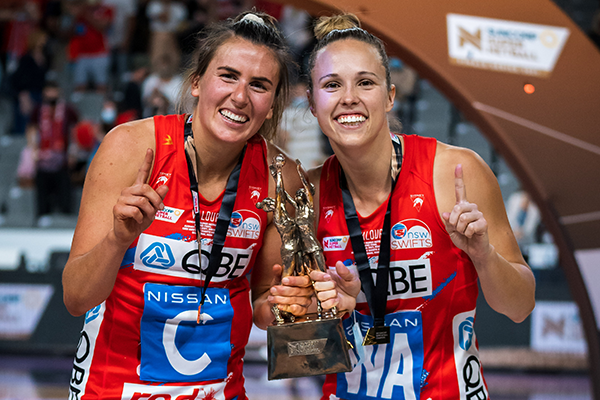 More Netball News
Vixens squad taking shape as Jo Weston signs on for year nine
Fowler and Bruce sign on with the Fever
Maddy McAuliffe to focus on her career away from netball
Hadley, who made her Swifts debut in 2012, is stoked to be re-signing with the club she supported since she was a kid.
"I love the Swifts and I am passionate about what we have created over the past number of years, and where we can go in the coming seasons," Hadley said.

"I am proud to not just play with a brilliant bunch of teammates, but also represent a club which means so much to so many people all over NSW and beyond.

"2022 will be my 11th year with the Swifts and having been on the road for so much of the last two years I can't wait to play at home again in front of my family, friends and of course our Swifts fans.

"It is always an honour to wear the Red Dress, and it was a childhood dream to pull on the famous Yellow Dress this season.

"The legacy of the Swifts has inspired this group and we are looking to build on it even more. The challenge for us now is to go back-to-back.

"This is a very special club, and to have had the honour of captaining the Swifts makes me immensely proud and excited for challenges that lie ahead.

"As a NSW junior I am thrilled to be a part of a team that inspires the next generation of talent coming through the pathways. I can't wait to go again."
The Swifts will further announce the 2022 roster in the coming days.
Subscribe to our newsletter!
About Author