The Southside Flyers have celebrated a season of milestones so far, despite continued interruptions.
Rebecca Cole capped off her 200th in style with a win over the Townsville Fire in an epic grand final rematch. Abby Bishop celebrated her 250th, joining some of the elite names of the competition to reach the milestone.
There are few who chalk up the majority of their games at the one club, however. Aimie Rocci has done just that.
Though she spent three seasons at the Adelaide Lightning, she returned in the 2019 for the club where she debuted as a bright-eyed teenager, eager to learn under the greats.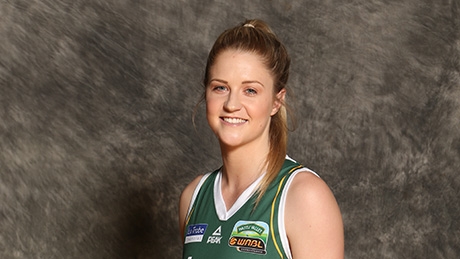 Rocci earned her first championship in 2012 at just 18 years of age, sitting on the sidelines and watching as the likes of Kathleen Macleod and Jenna O'Hea dismantled the Bulleen (now Melbourne) Boomers.
Her second then came on the return to the renamed Flyers, which she described as a "full circle" moment, finally getting to play alongside O'Hea on her own Southside return.
But looking back on it all after 200 games at the elite level, it isn't the moments on court that have mattered the most to the two-time champion.
"It's kind of interesting when you think about what means most to you throughout the whole 200 games," Rocci told The Inner Sanctum.
"It's actually more so that the highlights would just be the people. I've met my husband through basketball.
"We got married recently and my three bridesmaids were all either current or former teammates. I think the things you hang onto more are the memories of those people rather than picking out a particular game."
More WNBL News
There are of course plenty of those moments on court that do stand out, though.
Rocci ponders how hard it is to choose between the two championships, with both coming in completely different circumstances, and different points of her career.
"The second one's different because I did play a big role on the court, which feels really nice, and it was in the hub," she said.
"It was a rough time. We were missing home, I didn't have family there, so there was real positives to both."
The Flyers claimed the 2020 championship in the North Queensland hub in a nearly flawless shortened season.
Despite the trophies though, there are those once in a lifetime moments that basketball has given Rocci that she'll never forget.
"One that sticks out is in Adelaide when we won game two of our grand final series against Canberra on the buzzer, I have really good memories of that," she said.
She describes it as a "cool moment". Co-captain Nicole Seekamp singlehandedly sent the Lightning into game three of the 2018/19 grand final series.
Early days
Rocci first walked through the doors of the Dandenong Rangers as a 16-year-old, fresh off representing Australia in the Under-17 World Championship in France.
She made her debut at 17 as a development player, a promising young point guard with a lot to prove.
Despite those feelings of being a fish out of water, the Rangers proved to be an immediately welcoming place to be. She quickly formed relationships with her teammates, and her point guard mentor Kathleen Macleod.
"It was intimidating, that's probably a good word for it," Rocci reflected.
"I was lucky enough to be around a really good bunch of teammates though. I was with Jenna O'Hea at the time, which came full circle and I won a championship with her last year. I was playing under Kathleen Macleod, she was the point guard.
"They're people I still keep in contact with now because they were so lovely to me as a young player. Now, they're friends.
"As much as its intimidating, I wish I could just go back and tell myself to just have fun. Everyone's there for the same reason and everyone's there to support you."
Macleod's mentorship was something that Rocci wouldn't take for granted, learning off one of the best point guards in the country.
She was named in the WNBL All-Star Five four times, was named Grand Final MVP in the 2011/12 winning series, and won a bronze medal with the Opals at London 2012.
Rocci credits Macleod for getting her career to the point where it is now.
"She's a super competitive person. She pushes you massively at training, but I wouldn't say [our relationship] was competitive in the sense that she was threatened by me at all, she was far above me," Rocci laughed.
"It was one of those things where I was able to learn a lot from her. Whether it was her actively trying to help me out, or just playing on her at training week in, week out, [it] made me better.
"I was really lucky to have her in that position while I was coming up behind her."
Why Southside?
Constantly moving around to either further their careers, be closer to home, or to just look for a change of scenery, there aren't two many WNBL players that stick so closely to one side.
Marianna Tolo has spent all but the beginning of her time in the WNBL at the Capitals, while Macleod was fiercely loyal to the Rangers, spending just a season at Bendigo. They are more so exceptions than the rule.
Though Rocci did depart for the Lightning, the draw to return to the Flyers was always at the back of her mind. Born in Noble Park, the Dandenong-based side is always going to be her hometown team.
"I went to Adelaide for two years, but coming back to Southside… it was really important to me to come back home," she explained.
"The club gave me a lot of time, I gave them a lot of time. To be able to come back and be able to play in front of family and friends was really special.
"It's such a good organisation, I love being home. We have great staff and a great team, and I think a lot of effort actually goes into putting together a team that fits the culture. It's not just going out and finding great basketball players, they find great people as well. I think that's why I've stuck to this club and really enjoyed myself there.
"Now that I'm at Southside and this is my third season [being back], I just never could see myself playing anywhere else."
Rocci and the Flyers next take on the Perth Lynx at the Ballarat Sports Centre on Wednesday night.
Subscribe to our newsletter!