AFLW 2022: The debutants that made an impact in Round 1
In a first round packed to the brim with debutants eager to shine, who were the best of them? We've chosen some of the best from AFLW Round 1.
Round 1 of the 2022 AFLW season was packed to the brim with first-gamers, with a fresh crop of players making their debuts across the seven games.
But which ones did the best? Who put their hand up not only to stay in the team next week, but as a rising star going forward?
From mature agers grasping their opportunity with both hands to 18-year-olds making the step up to the next level, it was a weekend that had it all.
The Inner Sanctum takes a look at the debutants who made an impact in Round 1.
Meagan Kiely (Richmond)
Kiely made her debut in Richmond's romping Friday night season opening win against St Kilda, making a quick impression on Tigers fans.
The 27-year-old Tasmanian kicked two goals, the first also being the Tigers' first of the season, bursting out of the pack and kicking truly.
Part of a midfield group that ran over the top of the struggling Saints, Kiely also had 11 disposals, five tackles, and a clearance.
Already a leader in her own right, captaining North Melbourne's VFLW side before being drafted to the top flight, she doesn't seem like she'll have any trouble adapting on field either.
Her spot appears safe for next week's match up against Melbourne, and a few more disposals could see her solidify a midfield position long term.
Jasmine Ferguson (North Melbourne)
On debut, mature ager Jasmine Ferguson had a large task ahead of her as the second key defender in North Melbourne's backline.
Tahlia Randall was switched into full forward, leaving Ferguson alongside Danielle Hardiman. Given the job on fellow debutant Claudia Gunjaca, she performed her role excellently.
Ferguson kept the Geelong VFLW captain to just one touch and one tackle, with no marks and no impact on the scoreboard.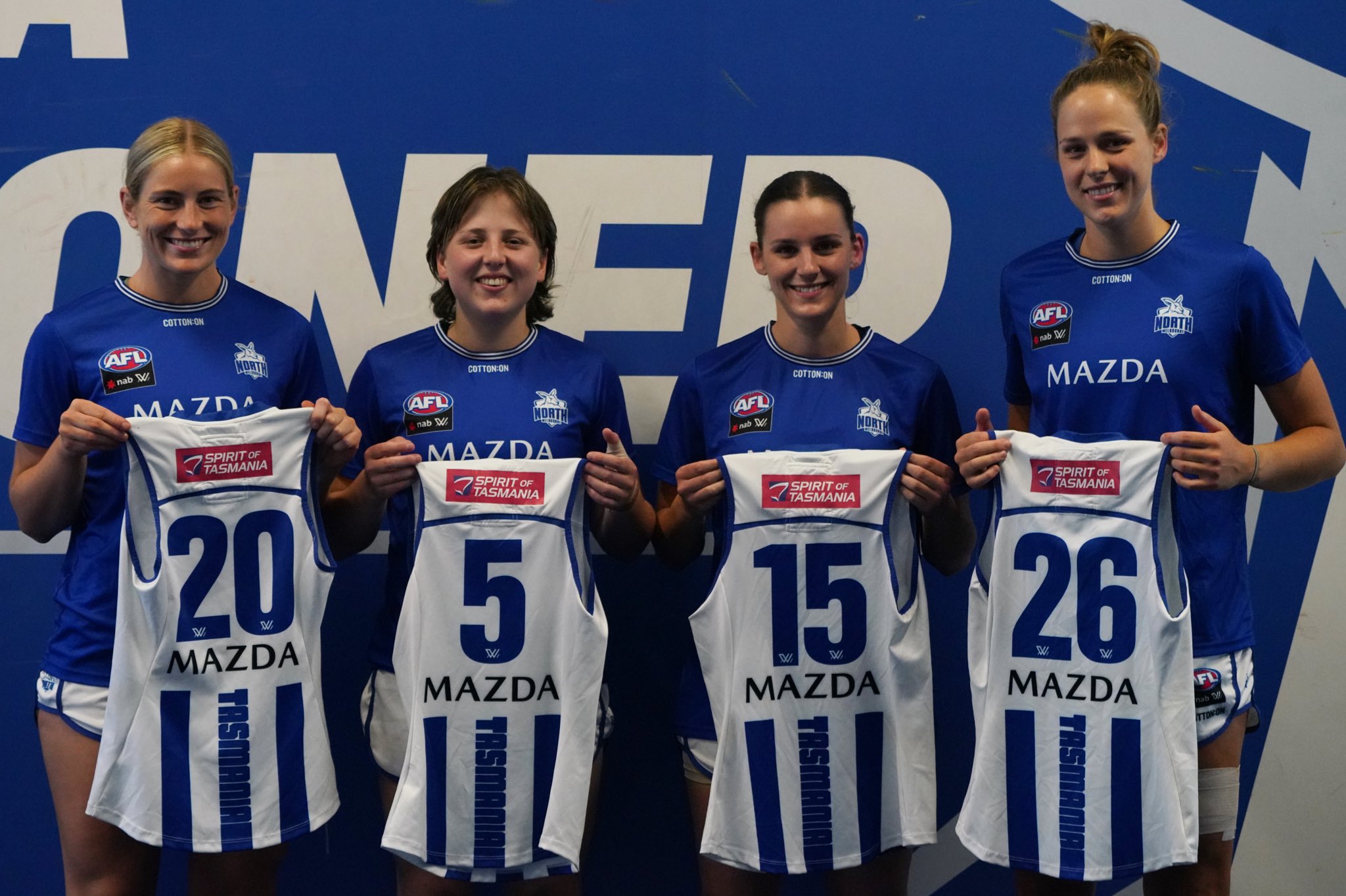 She wasn't content to wrap up her game just there though, finding plenty of the ball while preventing her direct opponent from doing the same.
Ferguson finished with 12 disposals, five marks, and three tackles in what was the ideal first up lockdown and intercepting performance.
Georgie Prespakis (Geelong)
There was plenty of hype around 2021's number two pick, and the first in the Victorian pool, coming into her debut game.
Prespakis has become known for her aggression and clean disposal out of the contest, dominating both the NAB League and VFLW as an inside midfielder before her 18th birthday.
Those strengths carried over perfectly to the top level, as she finished the game as Geelong's equal highest disposal winner alongside Amy McDonald.
Embed from Getty Images
It was as near complete a midfield performance as any player will have on debut, with 20 disposals (12 contested), seven clearances, six tackles, five inside 50s, and two score involvements.
The question won't be how can Prespakis stay in this side, it's how can she drop out of it?
Airlie Runnalls (Fremantle)
Runnalls, staying true to her name, loves to run the wing all game long. She did it all year for North Melbourne in the VFLW, and she's looking to do it again all year for Fremantle.
She barely took a step down from what she was doing at state league level, showcasing her brilliant endurance and putting herself in all the right places.
The wing position is not an easy one to maintain at Fremantle, especially when you've got Steph Cain and Ebony Antonio as the options in front of you.
Embed from Getty Images
But Runnalls' 14 disposals, two marks, two inside 50s and a rebound 50, while not as mighty of a stat-line as her wing buddies, is still an excellent first up return.
More AFLW News
Jasmine Simmons (Adelaide)
Simmons started her debut game quietly, but as the Crows began to roll over the top of the Lions, she began to enter it as a tall marking option.
Often sitting behind the play and assisting the likes of Chelsea Biddell and Marijana Rajcic in the backline, Simmons took three marks and had three intercept possessions.
Embed from Getty Images
A basketball convert, many probably didn't expect Simmons to debut this early, but she's shown just why coach Matt Clarke has shown faith in her.
At 180cm, she's mobile enough to be used along the outside in any role, and could be the perfect tall wing option going forward for Adelaide.
Courtney Jones (Carlton)
Despite the Blues going down to the Magpies, Jones provided a lot of spark in what was an otherwise lacking forward group.
She kicked her first goal in the third quarter, taking a mark inside 50 and then going back and slotting her set shot with ease.
She was a constant presence both inside and outside of the 50 metre arc, finishing the game with five score involvements and four marks.
Charlie Rowbottom (Gold Coast)
There was a lot of pressure on the number one pick's shoulders, and while she didn't deliver the most dominant midfield performance of the round, Rowbottom battled hard in tough Mackay conditions.
She had 11 disposals (nine of those contested), laid six tackles, and created three inside 50s. Without a lot of support around her, Rowbottom's talent still shone through.
Embed from Getty Images
While it was a slow start in the loss to the Giants, she built into the game late, beginning to take marks around the ground and getting onto the end of kicks out of the backline.
Ally Morphett (GWS)
Standing at a whopping 188cm, Morphett had the unenviable task of debuting against Lauren Bella, one of the most promising young rucks in the AFLW.
Going into battle alongside Erin McKinnon, she arguably came out the better of the two, winning four more disposals (six) but two less hit outs (15).
Embed from Getty Images
Aside from using her pure size to bully out the Gold Coast midfielders, Morphett also worked around the ground better than McKinnon did.
She took two marks, won herself a clearance, and four of her disposals were contested possessions. If coach Alan McConnell continues to run the two rucks set up, Morphett is sure to feature.
Subscribe to our newsletter!
About Author