Even with his recent injury issues, Daniel Talia is one of the best ready made key defenders on the open AFL market.
After going under the knife for surgery on his knee, followed by a foot injury and multiple setbacks, Adelaide made the decision to not renew the dual All-Australian's contract for 2022.
Talia played 200 games for the Crows, taking on the opposition's biggest and best forward week to week for the better part of 10 years.
29 and suddenly finding himself with the 'injury-prone' label, will any club take the punt on the defender as a delisted free agent?
Two players were picked up as delisted free agents in the 2020 draft, James Frawley (St Kilda) and Mitch Hinge (Adelaide). Six players were given a lifeline in 2019, three of which were delisted at the season's end.
The Inner Sanctum explores the teams that could add Talia to their backlines in 2022.
Essendon
Essendon and Talia were linked in 2020, but the defender shot down the chance of a move. He admitted that the Bombers had approached him, but he was committed to honouring the remainder of his contract.
Come 2021 and the links between the two clubs are strong. Coach Ben Rutten was Talia's self-admitted role model as a young defender learning the ropes, and that prior relationship could be a tipping point.
If his Adelaide contract was the only thing stopping Talia from joining Essendon at the end of last year, what's stopping him this year?
Despite veteran defender Michael Hurley's year long absence with a hip infection, the Bombers backline hasn't been as big of an area of weakness as many thought it would be. The Bombers finished ninth for points against, but on the flipside have conceded 100 points or more on six occasions.
Hurley was set for a move to the forward line this season, and may very well do so on return in 2022. This leaves James Stewart, Jayden Laverde, Aaron Francis, recently re-signed Brandon Zerk-Thatcher and youngsters Zach Reid and Cody Brand as the Bombers' key position defensive stocks.
While the three talls, alongside Jordan Ridley, have been doing a serviceable job against larger opponents, a true key position player would go a long way in the Essendon backline.
It might mean Francis spends more time forward, or Stewart higher up the ground, but Talia adds that pure one-on-one defensive craft that the newbies haven't fully developed yet.
Less pressure on Dyson Heppell, Mason Redman and Ridley to man an opponent will play well into complementing Nick Hind's dash and Tom Cutler's piercing disposal off the half back line. Talia simply makes everyone in the back six better.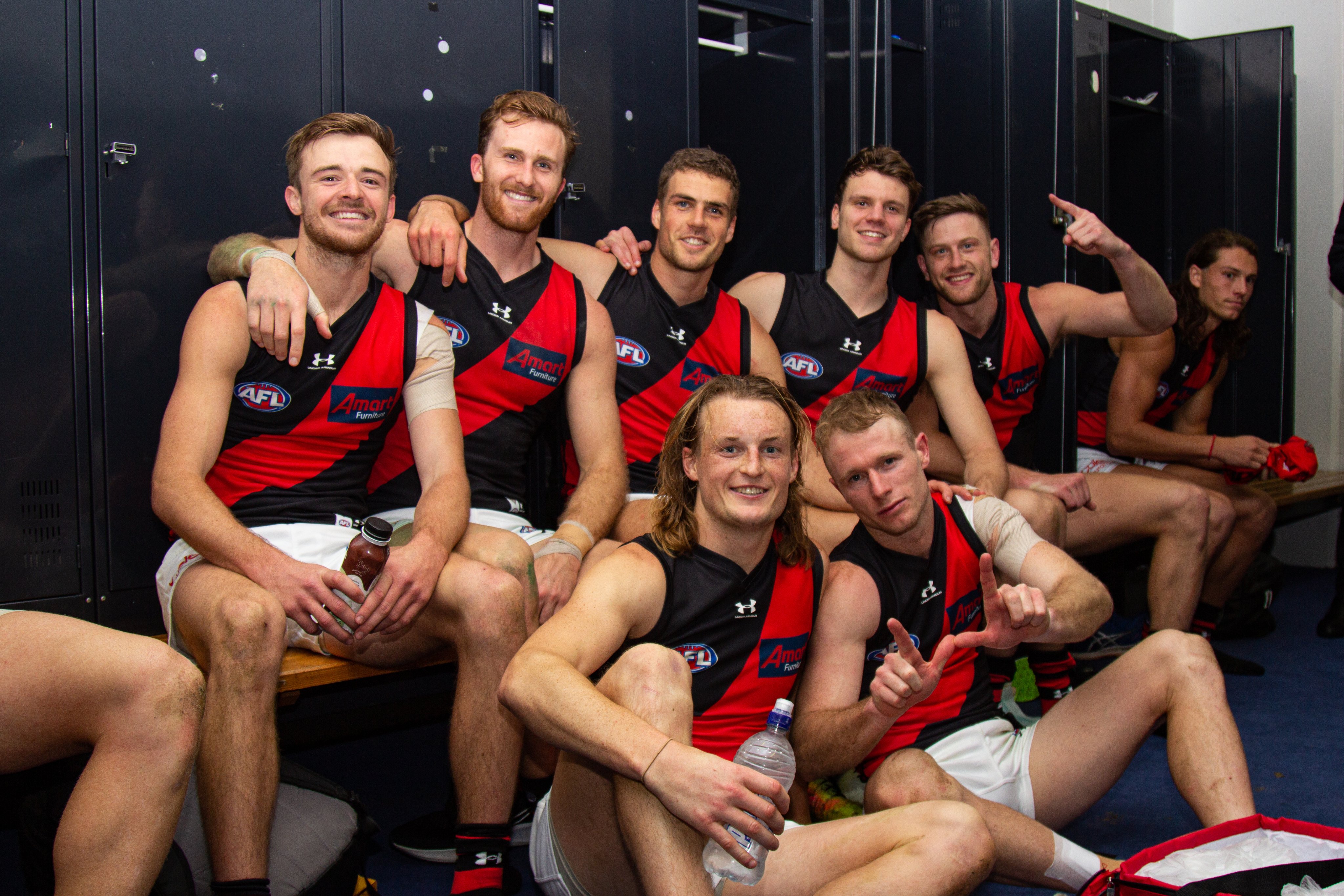 Gold Coast Suns
Vice-captain Sam Collins may have just signed an extension until 2025, but both he and Charlie Ballard clearly needed the extra support as the last talls standing.
Jack Bowes and Wil Powell took big steps up in 2021, but they're not players who'll be manning a 200cm key forward.
Rory Thompson's body failed himself once again at the end of the 2020, suffering an ACL injury. He now hasn't played at AFL level for over three years. Throw in Jack Hombsch's retirement, and the Suns backline needs help.
Gold Coast has had a rich recent history of bringing in Adelaide players. Rory Atkins, Hugh Greenwood, Jarryd Lyons and Harrison Wigg have all made their way between the two clubs over the past four seasons.
In 2021, the Suns gave up an average of 84 points a game, sixth in the AFL. Their defence was a notable strong point, as they ranked last in points scored.
Another big body to support the young defenders would play nicely in coach Stewie Dew's game plan. The medium and smalls, and Ballard, will be able to play to their strong intercept and rebounding games with Talia taking another big forward.
Sam Day will also be able to play full time in the forward line on return, supporting Ben King and Josh Corbett to hit 2022 at their scoring best.
GWS Giants
In their daring win over Richmond in Round 22, the Giants infamously fielded one of the most inexperienced backlines in the competition in 2021.
Jake Stein (nine games), Sam Taylor (51 games), Isaac Cumming (32 games), Connor Idun (24 games), and James Peatling (three games) helped to hold the Richmond forwards to just 67 points.
Alongside the veteran duo of Nick Haynes and Lachie Whitfield, it was a valiant performance by a young, yet highly talented group.
The immediate answer to bringing in Talia to the Giants is to question why he's needed when you have the likes of Phil Davis both providing leadership and playing the exact same role. Davis, however, has missed 19 games across the past two seasons.
With Davis growing ever more susceptible to wear and tear, Lachie Keeffe succumbing to an ACL in May and Jeremy Finlayson a forward for the long term, the key defensive stocks are wearing thin.
When the Giants backline is at its best, Nick Haynes is intercepting and floating across contests, and Cumming and Taylor have both also shown their ability to do exactly that. The three combined for 29 marks against Carlton in Round 23.
Talia's one on one contested marking work adds a big body who can support the intercepting players, and allow them to play to their strengths. It will require a more selfless role from the veteran, but one that his skillset matches perfectly.
READ MORE: Aussie Rules News
The A-Z of Round 23: Who's going on? Who's going home?
Once the 'first girl in the school cricket team', next an AFLW Bomber? Gardner's dreams coming true
Will on the way to finals: Hayward on Sydney's September berth
St Kilda
St Kilda's key defenders named in the Round 23 match against Fremantle included Callum Wilkie, Dougal Howard and Oscar Clavarino. The three combined for 153 games experience, which Talia outranks alone.
It still somehow managed to keep Fremantle to 49 points, though. Against a more dangerous set of talls than Matt Taberner's Docker daycare, it could have spelled trouble.
Dylan Roberton had previously announced his retirement at the beginning of the season, while James Frawley and Jake Carlisle recently followed suit.
While there is still plenty of optimism around the promise of Brett Ratten's young backline, they desperately need a leader more than anything.
Howard and Wilkie were both elevated to the leadership group this season, but both still obviously lack the level of AFL experience that Talia possesses. Both will turn 26 before the start of next year.
If he heads to the Saints, Talia might not necessarily play every single game, but perform a similar role to what Frawley did.
Frawley missed 10 weeks with a hamstring tendon strain, but provided a guiding figure for the young defenders in what could have been an otherwise taxing year.
While Talia might be a Zebra more often than a Saint in 2022, it could prove to be valuable for the club's future.
Sydney Swans
A team that's catapulted itself right back into the premiership window, there are not all too many pieces left to fit into the Swans' premiership puzzle.
One that they could absolutely do with is an 196cm 29-year-old dual All Australian key defender.
There's a notable lack of backline players that both: a. are over 190cm tall and b. have played more than 100 games. Tom McCartin is getting there, and Dane Rampe always plays well above his height, but Lewis Melican still can't quite take the big boys on his own.
The depth waiting in the wings leaves a bit to be desired as well.
Kaiden Brand is 27-years-old, and a serviceable defender, but has still only played 48 games, and hasn't looked to be much improved in his time with the Swans.
Meanwhile 191cm youngster Will Gould still hasn't yet done enough to earn a debut despite having battled away on Sydney's list for two years.
Talia is an immediate success sort of player for the Swans. He fills an obvious gap in their list, and comes with relevant experience that can genuinely carry the side through to finals glory.
However, it could also be a move seen as coach John Longmire reloading too aggressively, too fast.
Placing trust in Melican and McCartin to continue to develop could be the greater long term option. However, Talia's leadership and knowledge as a player in the same role provides a different level of wisdom to what the likes of Jake Lloyd and Rampe can impart.
Western Bulldogs
Alex Keath is crying out for a partner in crime to help add a bit of height into the Western Bulldogs backline.
Before Keath joined the Bulldogs at the end of 2019, 195cm Zaine Cordy and 187cm Easton Wood were often two of the tallest players in the backline after Aaron Naughton's permanent forward switch.
Multiple attempts to remedy this lack of height have been made by coach Luke Beveridge over the past couple of years.
Ryan Gardner was elevated from the Footscray Bulldogs to enter the defensive mix in the 2019 Mid-Season Draft. However, he was a slow starter in adapting to the level, and just when he started to look comfortable this season, went down with a shoulder injury.
Josh Schache has similarly struggled for form as a forward, and was effectively trialled as a defender in the VFL before making the move at AFL level.
The 199cm (now) swingman averaged 12.5 disposals, 5.75 marks and 2.75 rebound 50s in his four games late in 2021 before also suffering a knee injury.
All this talk of injuries may have Crows supporters remonstrating. Isn't that the whole reason why Talia missed all of this season in the first place? Why bring in another injury prone defender?
If the Bulldogs can improve their key defender stocks for free, they have absolutely no reason not to. They're a team that are right in the premiership window, and if Talia is the piece they're missing, there are worse risks they can take.
Subscribe to our newsletter!