The Adelaide Thunderbirds have been forced to relocate to Queensland, a move captain Hannah Petty says her team is happy to make to keep the Suncorp Super Netball season alive.
Speaking from Brisbane on Wednesday afternoon, Petty said the team are in good spirits and already appreciating some more sun, as they find their feet in the Sunshine State.
Everything changed quickly for the Thunderbirds on Tuesday, after it was announced South Australia would go into lockdown at 6pm.
"It was very hectic yesterday," Petty said.
"We went through the morning very cruisy. I think I was laying on my bed knowing we were heading into a lockdown, putting on a face mask and then had to wash that off, go get a test at a hotel and then had an hour to go home, get ready and be at the airport to fly to either Victoria or Queensland. 
"We didn't really know where we were going, but we've ended up in 'Brissie' and loving the sunshine up here." 
The team had not been able to train in Adelaide since returning from Perth and their loss to West Coast. However, they enjoyed getting back on the court on Wednesday morning.
"We had a really good hit-out this morning. So that was really good after not being able to train for a couple of days, and just prepare for our match and get a bit of normality in our lives.
"Everyone's actually enjoyed the days off. Who doesn't love a few days off to give the body a bit of extra rest this time of year?
"Everyone came out on the court today and we blew the cobwebs out and we're ready to go and everyone's actually feeling really fresh.
"I'm raring to go no matter who we're playing against," she said.
More Netball News
Queensland Firebirds keep the finals flame alight after 'emotional week'
Fever show strength at home in Thunderbird thrashing
Giants show resilience and spark in Sydney Derby
The Thunderbirds suffered a disappointing loss against the West Coast Fever on Saturday night, defeated by a massive margin of 25 goals.
Petty said the team reviewed the loss, paying particular attention to their general play turnovers.
"Going against the Fever, we did turn over a bit of ball and defensively we did great to turn it back, but it's about then controlling it through to our goals.
"We had a really good review on that and looked at it in detail, because you are not going to learn if you don't do that.
"We wanted to make sure that we do learn from our mistakes and come out against whoever we are playing this weekend and we do lower the number of turnovers we do have.
"That means looking at it, learning from it and moving on like that."
The mystery opponent
Moving on to a new opponent is a little difficult at the moment. The fixture for the final three rounds of competition is still to be confirmed by the league this week.
However, Petty said the team is working on what they can control and the improvements they can make to their own game plan.
"We don't know all of those things [opponent, date or time], so we're just trying to look at the things we can control and we can control what we do with the ball," she said.
"So, no matter who we come up against we have a game plan that we believe will work against any one, so its just cementing that and putting things out on the court that we want to do. 
"Three wins is what we're after [in the final three games]. I think we've got to play the Vixens, Lightning and Swifts and we've come close and beaten all of them. 
"So, looking to turn the one goal loss against Lightning into a win and keeping the rest at two-love.
"That's what we're looking forward to and we know we've got the game to go out and beat anyone, so it's just about doing it off of our back rather than worrying about what they're doing."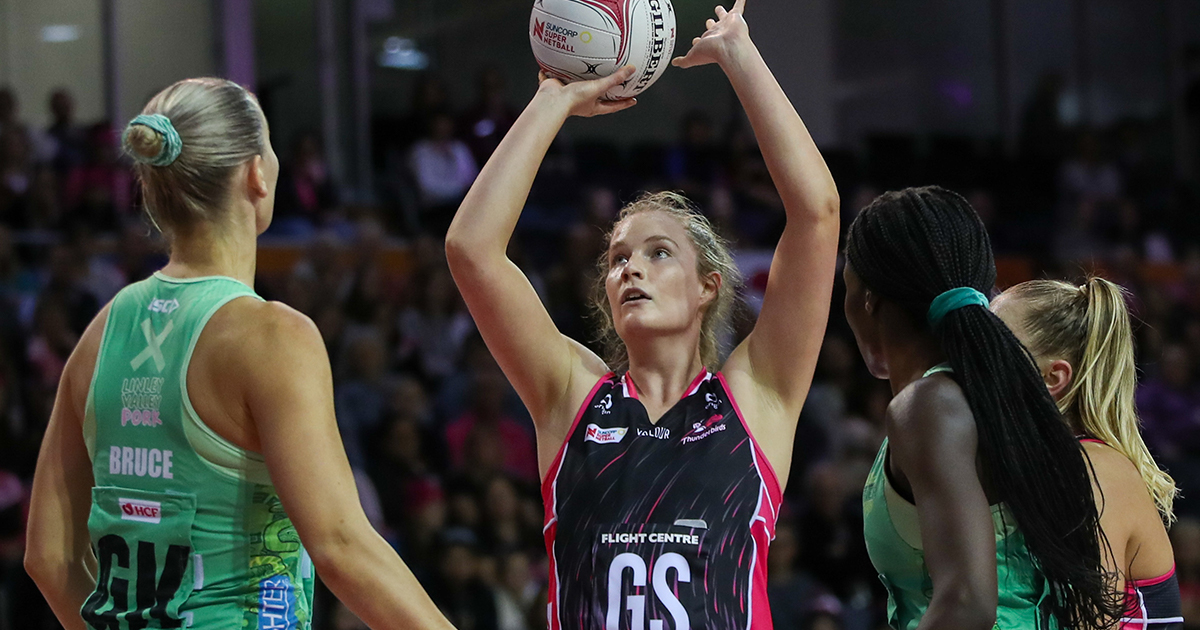 Adelaide hub, denied
The league's original plan of an Adelaide hub was torn up after just one weekend when South Australia was plunged into a seven day lockdown to slow a growing COVID-19 outbreak.
Adelaide was excited at the prospect of hosting the final four minor rounds and finals series, but unfortunately this was short-lived.
"We were super excited to have the hub in Adelaide," Petty said.
"We were very keen for our netball fans, we know the Pink Army how much they love their netball, so we were so excited to be able to bring the whole comp here. 
"Obviously, devastated we can't play there, but to keep the season going we knew we had to leave and we're just so thankful that we can get into Brisbane and be able to play games."
While their opponent has not been confirmed, Petty said the team believes they'll be moving up to the Sunshine Coast in the coming days.
"We're not 100 per cent sure [whether we stay in Brisbane], it will depend on who we play, but at the moment it looks like we're heading up to the Sunny Coast, which we're all quite happy about, we're quite familiar.
"We can't wait to get back up there and get into a bit of a routine and find out who we're playing against."
The fixture for the final three rounds is expected to be announced soon, and may be condensed to wrap the season up swiftly to avoid teams being moved across the country again.
Subscribe to our newsletter!