Aaron Heppell – Part 1: No easy decisions
After his decision to retire from VFL footy at just 26, we spoke to Essendon's Aaron Heppell about making the decision and his illustrious career.
Essendon's Aaron Heppell announced his retirement from the VFL in February, at just 26-years-old.
The decision was not one that came easily for the three-time Bombers best and fairest winner, and one that he thought deeply about throughout 2020.
He joined the club at the start of the 2014 season, playing in multiple finals series and being appointed captain two years ago, in what would be his final season playing for Essendon.
Heppell was a player who constantly found himself talked about in draft circles as one who could make the step up to AFL football after a strong showing for the Gippsland Power in his draft year, predominantly played as an inside ball winner.
While he came close on a few occasions, he ultimately remained undrafted for seven years.
Heppell spoke to The Inner Sanctum after the official announcement of his retirement about the process and the journey leading up to the decision, as well as his footy career in the red and black.
"[The decision to retire] was obviously a big one," Heppell said.
"It took me about four months to come to a set decision. [My partner Phoebe], she was my sounding board for the majority of the time. I spoke to a lot of people who I've made good relationships with at the Essendon Footy Club and around Leongatha.
"I played [at Essendon] for seven years and everything went pretty well and I had some good relationships with a lot of the people at the club, which was probably the hardest thing to say goodbye to.
"I love the club, I loved going to training, I love the facilities, love the people. It's something I never dreaded doing, going to training, it was actually a release for me.
"It was a time where you could drop whatever was going on in your life, whether it was uni, work or relationships, you just go to the club. It was kind of my release space, my mindfulness space, it was a really nice environment.
"That's why it was such a hard decision."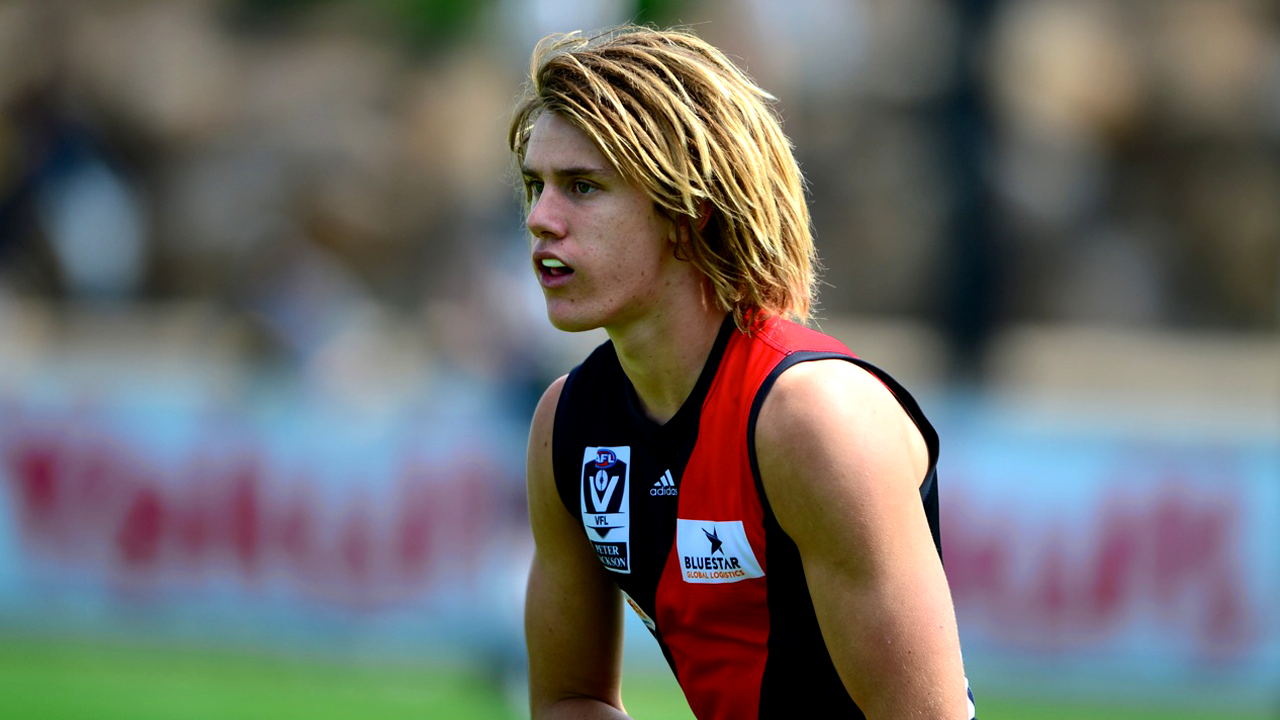 MORE ESSENDON NEWS
AFL Mid-Season Review: Essendon surprising even the most optimistic pundits
Bomber's important message on mental health
New Bombers captain making the most of every opportunity
A country boy at heart, 2020's COVID lockdowns in Melbourne had Heppell itching to get back to where it all started.
Located in South Gippsland, his home of Leongatha is a small country town with a population barely squeezing over 5000, a stark difference to the bustling city streets and suburbs of Melbourne.
The call of home was too hard to resist for Heppell, as he began to eye off an offer as a playing-assistant coach position at the town's local team, the Leongatha Parrots.
Both Heppell and his brother Dyson, as well as new Essendon recruit Zach Reid, all found their way to the Bombers through the Parrots.
"When Leongatha called with the potential to get out of Melbourne on every weekend of the footy season, [it] sounded appealing," Heppell explained.
"Just to get home and spend more time in Inverloch with my family and my friends back home was kind of a drawcard. I've still got a few friends I went to school with playing at Leongatha.
"Becoming a senior coach of a local football club is definitely what I'm striving towards over the next three to five years.
"I guess this is a reintroduction to local football to me, and what local football coaching looks like. That's definitely something I want to move into."
Opportunities don't come easy
The step up from underage footy to the VFL was not one that came easily for Heppell.
While the then TAC Cup (now NAB League) was full of under 18s players trying their hardest to live out their AFL dream while still developing their game, the VFL is host to AFL-listed players and the best of the rest in Victoria.
Heppell found the jump up to the next level came with its challenges.
"Coming from TAC Cup, where I played all the way through, played every game… I had always played every game and put that expectation on myself," he said.
"It was a bit of a wake-up call that I needed to improve on my game in a lot of areas, especially after not getting picked up as an 18-year-old in the draft. It really gave me a drive to focus on improving my footy and doing what I needed to do to ensure that I am getting a game every week.
"Whether that be improving my performance through training or watching edits or having conversations with coaches and things like that to make sure I was getting the most out of what the Essendon Football Club program had to offer.
"I experienced all lenses of the program, coming in as an 18-year-old and not getting games and trying to fight for a spot, and then into my later years being captain and having more of a leadership role.
"Not just having a guaranteed spot every week, but being able to work with the younger guys and develop their leadership and football as well.
"Looking back, there's definitely a lot of aspects I miss. The people around the club, the training standards, the facilities and just how accessible everything is in such a professional environment.
"The local clubs don't have nowhere near that kind of facilities and environment. Those are the things I'll miss the most."
Being given the captaincy at the start of the 2019 season was a natural progression for Heppell as he continued to develop in Essendon's VFL program.
He became one of the side's star players in 2016, winning his first of three best and fairest awards as he matured and grew into the leadership qualities that would eventually be recognised by his coaches and peers.
Part of that maturity came from taking on more responsibility, and learning to be more selfless, gaining a better understanding of how to communicate with his teammates over time.
"I'm not going to lie, I spoke to other VFL clubs and I spoke to other local clubs, especially in my early years when I wasn't getting much opportunity," Heppell admitted.
"Definitely happy I stuck around.
"Through those years, I was not only able to get a game, but tailor the program to how I liked it, which is very people focused.
"Making sure everyone was really enjoying their time at the club as much as I was, especially the younger guys coming through haven't not got a game… knowing what it feels like for them to come from local level or from TAC Cup and they're really battling for a spot.
"You're dealing with a lot of other things in life that people are going through as a coach, there's a lot more than just coaching footy, which I learned as a captain.
"A lot of these guys have a lot more going on in their day to day life and so I guess that's part of being a captain and part of being a coach. You manage the people as well as the players."
Subscribe to our newsletter!
About Author