Welcome to The Inner Sanctum's coverage of the 2021 AFL Draft, live from Marvel Stadium.
North Melbourne is set to be on the clock just after 7pm AEDT, and it's no secret that Jason Horne-Francis will be the first player off the board.
Hawthorn's Pick 5 (7) is where the draft is set to enter the unknown, with several midfielders linked to the Hawks and no decision made yet.
READ: AFL Draft Power Rankings: The Top 50 Prospects in 2021
Night two: November 25
Every team has passed, and that is us done on the live vlog for the night. Thank you for joining us for every pick of the 2021 National Draft!
9:53pm:
PICK 81: Melbourne – Pass
The Dees wrap up their draft with their father/son selection.
PICK 80: St Kilda – Pass
PICK 79: Melbourne – Taj Woewodin (Western Australia/East Fremantle)
The father/son prospect brings versatility into the Dees lineup, able to play across most areas of the ground. He also adds leadership into the group, captaining the East Fremantle Colts side.
9:50pm:
PICK 78: Geelong – Cooper Whyte (Vic Country/Geelong Falcons)
181cm midfielder Cooper Whyte plays with a lot of flair, a midfielder who can become a true stoppage-breaker. His consistency has been questioned, but if he can make his worst as good as his best, he'll be a strong part of the Cats midfield group.
9:47pm:
PICK 77: Gold Coast Suns – Pass
Adding tall prospect Mac Andrew and discarded Cat Charlie Constable, the Suns will now look to rookie list Rory Thompson and Jez McLennan alongside their pre-selected players in Bodhi Uwland and Sandy Brock.
9:45pm:
PICK 76: Gold Coast Suns – Charlie Constable
Constable comes into the Suns with another chance after being delisted by Geelong and being given license to explore his options. He's a hard-nosed midfielder who showed what he could do as a contested in and under player in the VFL, but couldn't quite crack it in an experienced Cats inside brigade.
9:44pm:
PICK 75: Port Adelaide – Pass
Josh Sinn, father/son Jase Burgoyne plus a couple of bargain picks should leave Port Adelaide fans happy as it ends its draft.
9:43pm:
PICK 75: Sydney Swans – Pass
Sydney passes and completes its draft.
PICK 74: Essendon – Pass
After a long wait, the Bombers drop out of the draft. Too late picks to go with Ben Hobbs completes their draft.
9:39pm:
PICK 73: West Coast Eagles – Pass
A solid local haul for the Eagles puts them in a good position to add to their depth of talent.
PICK 72: St Kilda – Pass
PICK 71: Richmond – Pass
Five selections for the Tigers including three straight in the second round make for a strong draft haul as they wrap up their draft.
9:38pm:
PICK 70: Carlton – Pass
Carlton finishes its draft with just one selection in Jesse Motlop.
9:37pm:
PICK 69: North Melbourne – Pass
After taking the first pick last night, North Melbourne wrap up its draft with five selections.
9:35pm:
PICK 68: West Coast Eagles – Greg Clark (Western Australia/Subiaco)
Greg Clark has been one of the premier talents in the WAFL competition who should have no issues making the jump up to AFL level. The 24-year-old starred for Subiaco in his 93 games for Subiaco, and recently became a three-time WAFL premiership player in 2021 topped with a best on ground performance. 
9:34pm:
PICK 67: Western Bulldogs – Luke Cleary (Vic Metro/Sandringham Dragons)
A hard-nosed defender that's a great runner, mature-ager Cleary gets his shot after finishing runner up in the Sandringham Dragons best and fairest this year.
9:32pm:
PICK 66: Port Adelaide – Jase Burgoyne (South Australia/Woodville-West Torrens)
Son and nephew of Port Adelaide premiership stars Peter and Shaun Burgoyne, Jase is one of the more exciting talents coming out of South Australia. Impressing at both senior and U18s level in the SANFL rotating through the backline and midfield, Burgoyne has x-factor and is a clean user of the footy.
9:30pm:
Pick 65: North Melbourne – Jackson Archer (Vic Metro/Northern Knights)
North takes the son of their Shinboner of the Century! Archer is tough and hard at the ball like his Dad, and will develop as a defender with tidy skills and a great work ethic.
9:27pm:
PICK 63: GWS Giants – Pass
The Giants pass and finish their draft.
9:25pm:
PICK 62: Sydney Swans – Lachlan Rankin (Vic Metro/Oakleigh Chargers)
One of the smartest and most efficient of this year's crop, Rankin showcased his versatility,  impressing as a running halfback and wingman thanks to his clean kicking skills. Rankin might not be the quickest of players, but what he lacks in pace he makes up for in smarts, with terrific awareness allowing him to get out of small, tight spaces. Weighing 68kg, his frame is something he'll continue to improve as he develops.
9:23pm:
PICK 61: Fremantle – Pass
Fremantle is also done for the night, boasting four picks all from WA.
9:21pm:
PICK 60: West Coast Eagles – Jack Williams (Western Australia/East Fremantle)
A versatile tall, the 195cm Williams was impressive both up forward and in the ruck in the Colts competition for East Fremantle in 2021. Kicking 40 goals in 15 games, Williams is one of the brightest tall prospects coming out of WA.
9:19pm:
PICK 58 and 59: St Kilda – Pass
St Kilda pass on its fourth round selections and is also done for the night.
9:18pm:
PICK 57: HAWTHORN – Pass
Hawthorn pass on its fourth round selection and is done for the night.
9:16pm:
PICK 56: Port Adelaide – Dante Visentini (Vic Metro/Sandringham Dragons)
A tall unit who can hold down any of the key position posts, St Kilda City junior Visentini is not only versatile but also ferocious whether the ball's in the air or on the ground.
A key player for the Dragons after the loss of teammates Jacob Edwards and Max Heath, Visentini averaged 10.3 disposals for Sandringham as well as 8.5 hitouts in six NAB League games in 2021.
9:15pm:
PICK 55: Port Adelaide – Hugh Jackson (South Australia/North Adelaide)
Hugh Jackson was a ball-magnet in this year's SANFL U18s competition averaging 29 disposals a game, in addition to starting out the season averaging 34 touches in his first 11 games.
9:14pm:
PICK 54: Fremantle – Eric Benning (Western Australia/Claremont)
Part of Fremantle's Next Generation Academy, Benning is a promising prospect, with the 196cm ruck-forward a key contributor for Claremont's WAFL Colts side, showing plenty of upside with athletic ability.
9:10pm:
PICK 53: Hawthorn – Jai Serong (Vic Country/Gippsland Power)
Brother of the Dockers' Caleb, Jai Serong is the taller and lankier one of the two, standing at 192cm and 80kg. Serong displays a level of versatility that most other draftees don't, playing in multiple roles throughout the year with Gippsland. 
Serong looked the most natural up forward, but also spent time in the middle of the ground, averaging 17 disposals along with four tackles and marks per game.
FOURTH ROUND
9:08pm:
PICK 52: Collingwood – Harvey Harrison (South Australia/North Adelaide)
An incredibly pacey prospect who can move through both the midfield and the forward line, Harrison will add speed across either line of the ground. He averaged an impressive statline of 25.2 disposals, six marks, 5.4 clearances, 4.5 tackles and 3.2 inside 50s, while also kicking nine goals in 17 games.
9:06pm:
PICK 51: St Kilda – Oscar Adams (South Australia/Glenelg)
Adams is a key defender playing with Glenelg in the SANFL. He played 12 games for the under 18s side, impressing in the losing grand final with 16 disposals and six marks. He also spent much of the year chopping out in the ruck, offering an extra rotation when he's not sitting behind the ball.
9:04pm:
PICK 50: Essendon – Garrett McDonagh (Richmond VFL)
A mature-age prospect from the Richmond VFL side, McDonagh averaged 21 disposals and 4.9 marks. He can be utilised across either flank or along the wing, a marking and rebounding type that impressed in his nine games for the Tigers.
9:03pm:
St Kilda receive Pick 51 in exchange for Melbourne's future fourth round selection.
9:00pm:
PICK 49: Collingwood – Cooper Murley (South Australia/Norwood)
Cooper Murley was projected to be a high draft pick this year after a strong season as a bottom-age player for Norwood. Such was the quality of his year, Murley finished just one vote behind North Melbourne's Tom Powell in McCallum-Tomkins Medal count, SA's best and fairest for under 18s. A collarbone injury derailed his campaign in 2021 but such was the standard of last year, he still should get picked up early on night two.
8:58pm:
PICK 48: Geelong Cats – Flynn Kroeger (Vic Metro/Eastern Ranges)
Playing as a midfielder and a defender for the Eastern Ranges, Kroeger has bolted right up the draft board with this selection. He was named in the AFL Outer East's best under 21 footy players despite playing just one game for Wandin. Kroeger played a cracking game against the Western Jets, racking up 23 disposals, seven inside 50s and three marks.
8:57pm:
PICK 47: St Kilda – Marcus Windhager (Vic Metro/Sandringham Dragons)
Heading to the Saints courtesy of their Next Generation Academy, Windhager is an exciting midfielder who can push forward. He possesses a lot of explosive power, but is also clean and reliable with his decision making.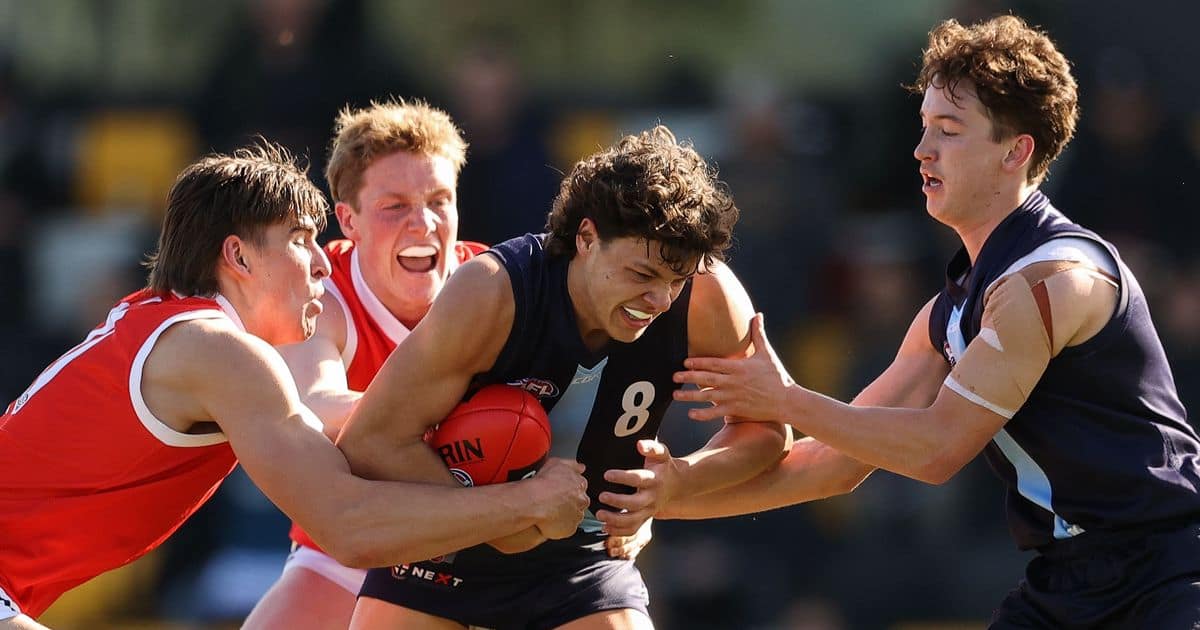 8:55pm:
Geelong places a bid on St Kilda Academy midfielder/forward Marcus Windhager. The Saints will have to give up Pick 57 to match.
8:52pm:
PICK 46: Essendon – Alastair Lord (South Australia/Norwood)
He only managed five games in the SANFL under 18s through injury, but the running defender is exactly what the Bombers have been looking to add to their defensive group. Lord adds burst speed pushing outside of defensive 50, and loves a long kick up the guts.
8:47pm:
PICK 45: Collingwood – Arlo Draper (South Australia/South Adelaide)
Arlo Draper has x-factor written all over him, able to play as a tall or small up forward and pinch-hit in the midfield. He has clean hands and an electric first step which gets him space on his defender.
Geelong receive Pick 47 and a future third rounder and give Pick 45 to Collingwood, who is now selecting next.
8:45pm:
PICK 44: Adelaide – Zac Taylor (Vic Metro/Calder Cannons)
Taylor is one of the best ball users in the draft and is a unique midfielder in his ability to wriggle through tight gaps and find chests under pressure. He could start his career as a high-half forward with his ball use going inside 50 a huge weapon.
8:41pm:
PICK 43: Western Bulldogs – Arthur Jones (Western Australia/Claremont)
A member of the AFL Academy, Jones is full of pace and can run all day as an outside player. He's been utilised up forward and along a wing in under 19s matches, and comes through as a serious bolter of the draft.
8:38pm:
PICK 42: GWS Giants – Josh Fahey (New South Wales/Giants Academy)
A medium-sized defender, Fahey has been a good performer across half-back with his run and carry and speed, making him one of the more damaging rebounding defenders in the NAB League.
8:37pm:
The Western Bulldogs have placed a bid on Giants Academy boy Josh Fahey. They would have give up Picks 47 and 89 to match, and gain Pick 63 in return.
8:33pm:
PICK 41: Brisbane – James Tunstill (Western Australia/East Perth)
A midfielder that enjoyed a big State Championships, Tunstill puts his head over the ball courageously, tackled with vigour and has done some lock-down jobs over the year to round out his midfield game.
8:31pm:
PICK 40: Sydney Swans – Corey Warner (Western Australia/East Fremantle)
Joining his brother Chad over east, Corey Warner is a hard-running midfielder who has shown the ability to play inside the contest, but especially on the outside. His endurance and burst from stoppages will appeal to the club that drafts him.
8:30pm:
Port Adelaide receive Pick 55, and Carlton receive a future fourth rounder in a pick swap. This leaves the Blues likely done for the night.
THIRD ROUND
8:21pm:
PICK 39: Melbourne – Blake Howes (Vic Metro/Sandringham Dragons)
Howes' second half of the season was good as any, with the wingman shifting up the ground from the forward and showing off his elite athleticism and ball skills. He is one of the best link-up players in the draft with his huge engine and speed.
8:19pm:
PICK 38: North Melbourne – Miller Bergman (Vic Country/Dandenong Stingrays)
A medium-sized outside player with good marking hands, Bergman provides a versatile option across multiple lines of the ground. While his penetrating kick is best utilised along the wing, the 188cm utility can also take up home at half-forward or half-back as a marking option.
8:17pm:
PICK 37: West Coast Eagles – Rhett Bazzo (Western Australia/Swan Districts)
One of the top key defenders in this year's draft, Bazzo controls the sky with his 195cm frame. His intercepting marking is the main feature of his game, but he also has the versatility to play up forward if required.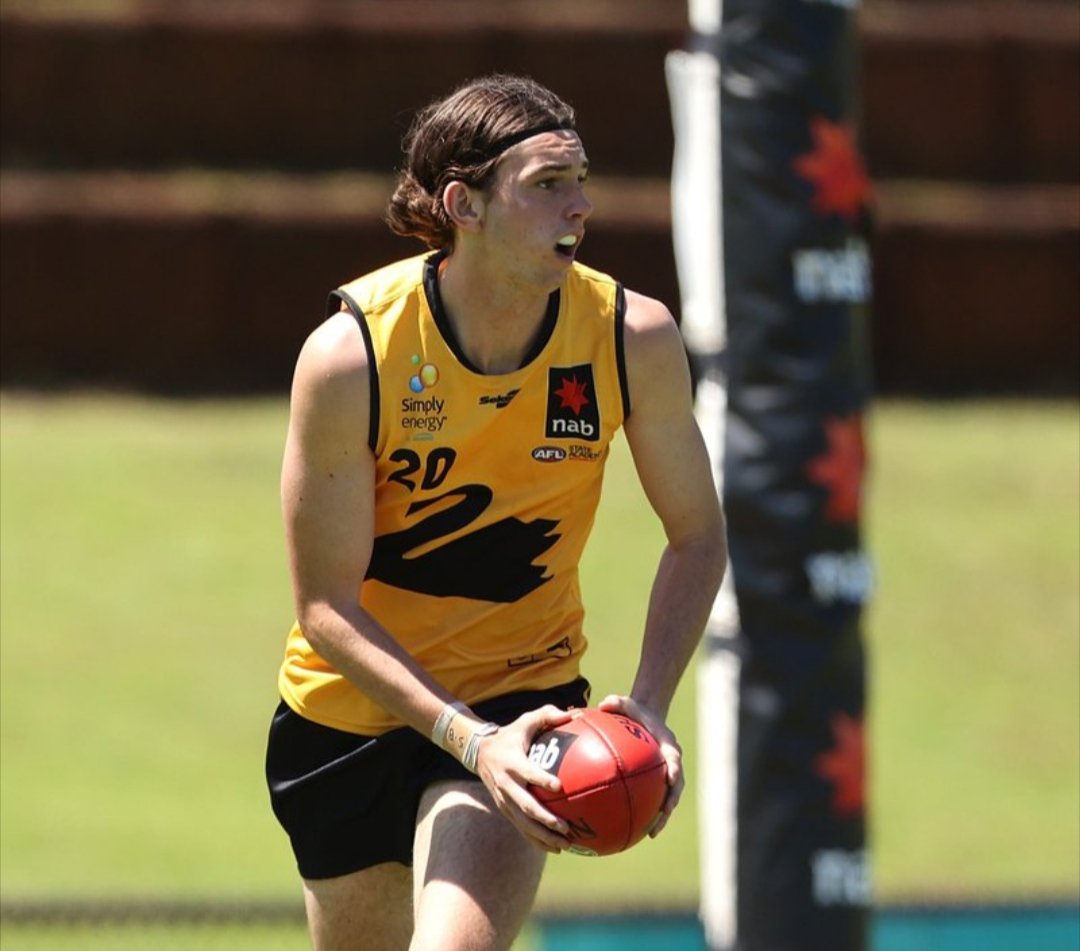 8:14pm:
PICK 36: Adelaide – Jake Soligo (Vic Metro/Eastern Ranges)
One of the more enticing midfield options, Soligo's work in the guts for the Ranges had him in the NAB AFL Draft Team of the Year. Having averaged 21 touches all season for the Ranges, he is a proven ball-winner with silky skills to match.
8:07pm:
PICK 35: North Melbourne – Paul Curtis (Vic Metro/Western Jets)
A talented small forward with lots of x-factor, Curtis knows his way around goal, is strong in a contest and is a good mark for his size. He had a great NAB League campaign for the Jets, averaging two goals a game this season.
8:03pm:
PICK 34: Sydney – Matthew Roberts (South Australia/South Adelaide)
Roberts dropped down draft boards in 2021, but his contested work is still exceptional and he has shown an ability to play in a variety of different roles at League level for the Panthers. His disposal is the big question mark, but there's a lot of scope for improvement in that area.
7:59pm:
PICK 33: St Kilda – Mitchito Owens (Vic Metro/Sandringham Dragons)
Owens has been a big riser in 2021 off the back of hard tackling and pure courage. He stands under the football unflinchingly and has shown off brilliant hands above his head for Vic Metro and the Dragons.
7:57pm:
Sydney places a bid on St Kilda academy product Mitchito Owens. To match, the Saints will have to give up Picks 48 and 54 and gain Pick 59.
7:54pm:
PICK 32: Geelong – James Willis (South Australia/North Adelaide)
A North Adelaide product with a high ceiling, finding consistency at the next level is the challenge for James Willis. A dynamic forward/midfielder with a balance of strength and speed, being able to take his chances in front of goal is the challenge if he finds his way onto an AFL list.
7:52pm:
PICK 31: West Coast Eagles – Brady Hough (Western Australia/Peel Thunder)
Hough has come from the clouds this season, dominating at WAFL Colts level for Peel before earning a League berth in the final game of the season. He's played across all three areas of the ground and shown good skills, a high workrate and great marking ability.
7:49pm:
PICK 30: Richmond – Judson Clarke (Vic Country/Dandenong Stingrays)
Clarke is one of the premier small forwards in the draft pool, using his agility, clean hands and goal nous to hit the scoreboard with regularity. He's also one of the most reliable set shots for goal and has a long left-foot kick.
7:45pm:
PICK 29: Richmond – Samuel Banks (Tasmania Devils)
Tasmania's top draft prospect this year, Banks is a talented half-back with the scope to play further up the ground on the wing. He catches the eye with his ball use by foot and decision making, often setting up plays. Banks had an injury-interrupted season after breaking his wrist, but still made the NAB League's team of the year.
7:41pm:
PICK 28: Richmond – Tyler Sonsie (Vic Metro/Eastern Ranges)
Talented in the inside and on the outside, Sonsie has the talent, with his only question mark being his work rate. Originally from Lysterfield, he averaged 23 disposals in five games for the Eastern Ranges whilst also making his VFL debut with the Box Hill Hawks in round four where he showed off sublime ability.
7:36pm:
PICK 27: Carlton – Jesse Motlop (Western Australia/South Fremantle)
Fremantle will be devastated to not be able to match a bid inside the top 40 for Motlop, with the son of Daniel looking brilliant in the WAFL this season for grand finalist's South Fremantle. He's quick and agile with elite goal nous and a sense for occasion.
7:34pm:
PICK 26: Hawthorn – Connor MacDonald (Vic Country/Dandenong Stingrays)
A strong contested midfielder who racks up disposals for fun, MacDonald stands out around stoppages with his explosiveness and poise. He had 24 disposals or more in his four NAB League games this year, averaging just under 30 in total.
7:29pm:
PICK 25: Geelong – Mitch Knevitt (Vic Country/Geelong Falcons)
A huge finish to the season for the Geelong Falcons saw Knevitt stamp his credentials, with the tall midfielder racking the ball up at will and using it well. His combine testing was superb to showcase his speed and endurance mix.
7:28pm:
PICK 24: Geelong – Toby Conway (Vic Country/Geelong Falcons)
Considered by recruiters to be the best 'pure ruck' in this year's draft, Conway is 204cm with a great pair of hands. Along with his tap work, Conway is strong in marking contests and has high endurance and an impressive work rate. 
7:24pm:
PICK 23: Hawthorn – Sam Butler (Vic Country/GWV Rebels)
The brother of the Saints' Dan, Sam Butler is a busy midfielder that exits the front of stoppages with real power and uses the ball well going inside 50. He's also shown off the clean ground-level game that his brother exhibits and should start his career as a dangerous small forward.
7:19pm:
PICK 22: North Melbourne – Josh Goater (Vic Metro/Calder Cannons)
A powerful 190cm player with unlimited potential, Goater looms as an explosive inside midfielder or half-back prospect. He possesses rare athletic traits, like his powerful leap and impressive agility. Goater had a strong NAB League campaign for the Cannons, where he averaged 24 disposals and five marks.
7:15pm:
PICK 21: Fremantle – Matthew Johnson (Western Australia/Subiaco)
It seems like Johnson has all the time in the world when he has the ball in his hands, such is his composure and agility in traffic. He uses the ball well and displays elite vision, with the only question mark being his contested side of the game.
6:55pm:
We're live again from Marvel Stadium, and not far away from starting selections for the second round. Fremantle holds the first selection with Pick 21, while North Melbourne come in second with Pick 22.
With a few players sliding and teams holding multiple second round selections, expect clubs to put a few live trades on the table.
Night one: November 24
And that is us done for the first round of the 2021 AFL Draft. Join us again tomorrow as the remainder of the draft plays out.
8:55pm:
PICK 20: Brisbane Lions – Kai Lohmann (Vic Country/GWV Rebels)
A forward who leads and marks well above his 185cm frame, Lohmann is one of the bolters of the first round. From the GWV Rebels, his game at ground level leaves little to be desired as well, making him a well-rounded option.
8:51pm:
PICK 19: Melbourne – Jacob van Rooyen (Western Australia/Claremont)
Van Rooyen is a versatile tall with a high work ethic that can play at either end. The 194cm West Australian is effective in marking contests and has a lot of potential upside. His versatility makes him a very attractive prospect for recruiters and has shown improvements in consistency in 2021.
8:48pm:
PICK 18: Sydney Swans – Angus Sheldrick (Western Australia/Claremont)
The player of the State Championships, Sheldrick is a tough-nut midfielder that is uncompromising in his attack of the ball and man. He went head to head with Horne-Francis in the first game, and was the winner on the day.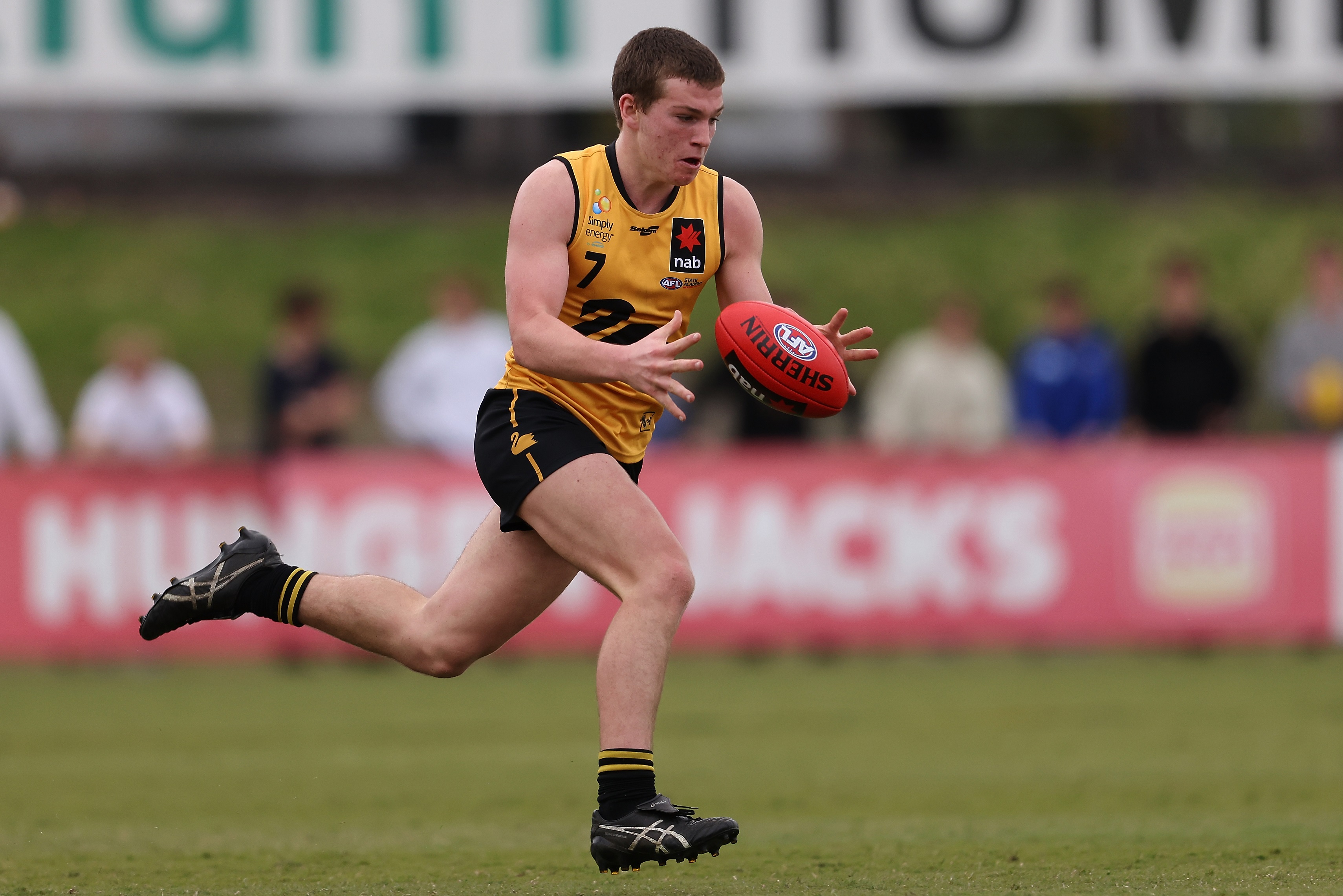 8:45pm:
PICK 17: Richmond – Tom Brown (Vic Country/Murray Bushrangers)
Son of former Cat Paul, Tom Brown boasts elite speed and a huge engine running off half-back. He's also composed with ball in hand and a smart player. At 187cm, he can play above his height and projects to be a high-floor defender in the AFL.
8:40pm:
PICK 16: Brisbane Lions – Darcy Wilmot (Vic Metro/Northern Knights)
A talented young defender from the northern suburbs of Melbourne, Wilmot is both a lockdown and playmaking defender. The son of the late ex-Collingwood player Grant, he's already had a taste of senior footy, playing four games with his dad's original side Montmorency.
8:39pm:
PICK 15: GWS Giants – Leek Alleer (South Australia/Central Districts)
The 196cm key defender took the SANFL by storm this season with his intercept marking ability and unrivalled athleticism. Alleer broke the draft combine's running vertical jump record this year, recording an incredible 107-centimetre leap.
He's already 20-years-old, after injuries ruined his draft hopes in the past two years, but has all the tools to be a force down back and fits what the modern game demands in an intercepting defender.
8:35pm:
PICK 14: West Coast Eagles – Campbell Chesser (Vic Country/Sandringham Dragons)
Chesser has been one of the top prospects in this draft for years, dominating the Under 16s State Championships as co-captain of Vic Country. He's lightning quick and a good ball user, and could play off half-back or the wing.
8:30pm:
PICK 13: Essendon – Ben Hobbs (Vic Country/GWV Rebels)
The first real slider of the draft, Hobbs is an exceptionally tough inside midfielder with some of the best contested ball-winning abilities in the draft, and joins the AFL system nearly ready-made. The GWV Rebels product has the smarts to match his intensity in the contest, and is never far from a tackle if the ball isn't in his hands.
8:26pm:
PICK 12: Port Adelaide – Josh Sinn (Vic Metro/Sandringham Dragons)
A half-back/midfielder with a need for speed and a powerful left foot, Sinn is the best of the medium defenders in this year's draft. The Old Xaverian was co-captain of Sandringham this year, averaging 17.6 disposals in the NAB League in five games.
8:25pm:
Port Adelaide has traded its pick 14 and a future second rounder for West Coast's pick 12. The Power are next to select now.
8:22pm:
PICK 11: St Kilda – Nasiah Wanganeen-Milera (South Australia/Glenelg)
The nephew of AFL legend Gavin, Wanganeen-Milera is as classy as it gets on the outside, able to pinpoint teammates by foot and evade would-be tacklers with ease. Composed and deadly with ball in hand, Wanganeen-Milera projects to become an elite wingman.
8:18pm:
PICK 10: Fremantle – Neil Erasmus (Western Australia/Subiaco)
Four goals in the 2020 WAFL Colts grand final for Subiaco was enough to see Erasmus held in high regard as a top midfielder/forward prospect.
Both his contested work and outside play looked like it had taken a huge step forward in limited time in an injury interrupted 2021, averaging 28 disposals and 7.7 marks.
8:14pm:
PICK 9: Richmond – Josh Gibcus (Vic Country/GWV Rebels)
Elite defenders aren't easy to come by, and 195cm Gibcus is the best of them in the 2021 draft pool. While he's done excellent work for the GWV Rebels as a key defender with an exceptional one-on-one game, he possesses all the attributes to also develop into a third tall or interceptor, averaging 4.4 marks in his 10 games this year.
8:09pm:
PICK 8: Fremantle – Jye Amiss (Western Australia/East Perth)
A pure key forward from East Perth, Amiss is one of the most dead-eye forwards in this year's draft, showing his accuracy at WAFL Colts level kicking 51 goals and 15 behinds. Amiss will be a handful for defenders on the lead due to his ability to create separation thanks to his leading patterns and work rate.
8:05pm:
PICK 7: Hawthorn – Josh Ward (Vic Metro/Northern Knights)
Named captain of the NAB League team of the year, Ward had an outstanding season with his endurance up there with the best in the AFL already. He has a nice left foot and gets forward to hit the scoreboard after winning the ball in the middle.
7:57pm:
PICK 6: Adelaide – Josh Rachele (Vic Country/Murray Bushrangers)
Rachele is the best small forward in the draft and does things with the footy others could only dream of. He's quick and agile, smart with every disposal and a dead-eye in front of goals. He also has the capabilities of pushing into the midfield to add a spark.
7:54pm:
PICK 5: Gold Coast Suns – Mac Andrew (Vic Country/Dandenong Stingrays)
One of the rapid risers this year, Andrew is a 201cm ruckman whose vertical leap and athleticism helped him dominate ruck contests.
Andrew is still raw, but his athletic traits and skilful abilities will allow him to start his career as a key position player before transitioning into the ruck once he fully develops.
7:50pm:
To the surprise of no one…
PICK 4: Collingwood – Nick Daicos (Vic Metro/Oakleigh Chargers)
After years of build up and anticipation, Daicos has finally landed at Collingwood. He has to live up to the pressure of being Peter Daicos' son and being one of this year's top prospects, but it's easy to see where the hype has come from.
Daicos dominated the NAB League this season, with his clean skills, ball gathering ability, agility, and poise in front of goal.
7:49pm:
Gold Coast has placed a bid on Nick Daicos, which Collingwood can match as a father/son selection. The Pies will loses picks 38, 40, 42, and 44, and gain picks 69, 87, and 90 if they do match.
7:45pm:
PICK 3: GWS Giants – Finn Callaghan (Vic Metro/Sandringham Dragons)
Many midfielders nowadays are tall, big bodied and classy on either the inside and outside, with Callaghan no different. Armed with a skilful and powerful left foot, the Mordialloc Braeside junior averaged 24.3 disposals in this season's NAB League for the Sandringham Dragons.
7:42pm:
PICK 2: Western Bulldogs – Sam Darcy (Vic Metro/Oakleigh Chargers)
For the second year in a row, the Bulldogs have landed one of the best key forward prospects in the draft. The son of club great Luke Darcy, Sam was one of this year's biggest bolters. Standing at 204cm, he has impressive agility for his size, strong hands and is reliable around goal.
7:40pm:
GWS has placed a bid on Western Bulldogs' father/son selection Sam Darcy, which they will choose whether to match or not.
They will lose picks 34, 42, 43, 44 and 45, and gain back picks 69, 90, 91, and 92 if they do choose to match.
7:35pm:
PICK 1: North Melbourne – Jason Horne-Francis (South Australia/South Adelaide)
The consensus number-one pick has been turning heads with his explosive game style inside, outside, and in the forward line for South Adelaide's senior SANFL side, and now Horne-Francis can do the same for North Melbourne.
His game is as complete as you'll ever see in an 18-year-old, holding a strong drive to do as much off the ball as on it with a workrate to match.
7:34pm: Another trade, North Melbourne trading picks 42, 47, and a future third rounder for the Western Bulldogs picks 32, 52, and a future third rounder.
7:32pm: Before North Melbourne can select its first pick, the Western Bulldogs trade pick 23 to Geelong for pick 32 and 34. This gives them more points to match a bid for father/son selection Sam Darcy, likely to be bid on at pick 2 by GWS.